Commercial Oven: How to Choose the Best One in 2023!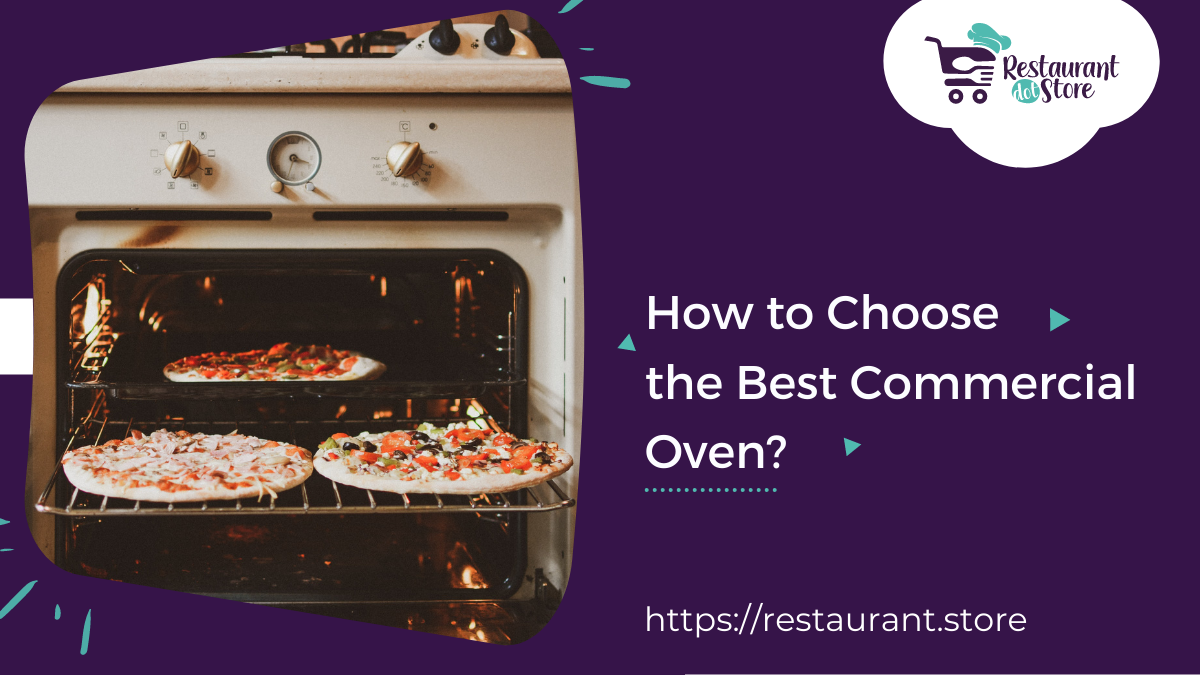 Ovens, hearts of bakeries! You cannot imagine a bakery without ovens. The primary vital equipment of every bakery is an oven. For almost every bakery item, ovens are required. Making the right choice while selecting commercial ovens is extremely crucial as it can either make or break your baking game.
Even if you are not planning to start a professional bakery, it is recommended to dig a bit deeper and complete your share of research before investing in commercial ovens. Let's jump right to the point and start exploring different factors you must consider before purchasing the bakery ovens.
Buying Guide For Best Commercial Oven
1. Type of Commercial Ovens
A. Convection Ovens
Convection ovens are just like any regular ovens but have fans in the center from inside to circulate the hot air in every corner of the oven to process food preparation. This type of oven is a perfect fit for equal cooking of items with a better speed than regular ovens.
Time to cook a pizza- 12-15 minutes
B. Conveyor Ovens
Another popular type of oven is a Conveyor oven baking a pizza in a few minutes! Due to its super-fast baking nature, most bakers prefer commercial conveyor ovens for bakeries. Wonder how a conveyor oven works? Every item passes through a heated chamber where a conveyor belt is installed and the item gets cooked in even heat within a few minutes. To achieve fast cooking, the oven uses forced air impingement, radiant heat, or infrared heat.Time to cook a pizza- 4-5 minutes
C. Electric Ovens
Super fast, used for crispy & crunchy bakery items, works on electricity, advanced features, etc. are a few reasons why electric ovens are so popular amongst bakers. If you run a fast-food restaurant or a cafe where you have a huge rush of customers throughout the day, an electric commercial oven is the best option you can have since it cooks the food quickly to high temperatures.
Time to bake pizza- 30 minutes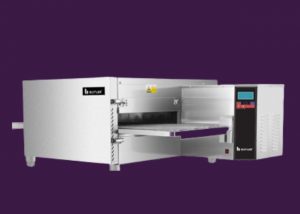 D. Gas Ovens
Gas ovens are widely used for spongy and juicy bakery items. Most of the bakery products are meant to be fluffy and juicy; for instance, bread, cakes, cupcakes, donuts, etc. Hence, it is a perfect bakery oven. These commercial ovens for bakeries process on low heat emission resulting in more moisture in the products.
Time to bake bread loves- 35 minutes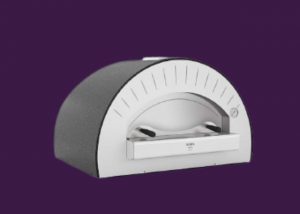 2. Features
One of the most vital factors while selecting the commercial oven for the bakery is the number of advanced features it has. Whether you want to have a complete automatic commercial bakery oven or a semi-automatic, or an oven that works on IoT, it completely depends on your custom requirements. If you have enough budget and require the latest features, you can opt for the electric oven with two decks & four trays.
Even if you are a home baker looking to flourish your business, you can do your homework and decide on what exact features would be required for the best commercial oven for baking cakes.
3. Cost
Cost is one of the most primary factors any baker would consider before purchasing a commercial oven. Let us see what are the average costs of popular bakery ovens and their features
Depending on the features and your business needs, you can estimate the cost required for a commercial oven.
4. Capacity
Operating a large-scale bakery? Delivering hundreds of bakery items every day? Or a home baker with a small setup? Make sure you consider the capacity you require for your business and select the right equipment. You can choose from a variety of options of several decks, number of trays, etc.
5. Quality
A good quality best commercial oven for baking cakes must have longer durability, a stainless steel body, consume less energy (be it electricity or gas), takes minimum time to preheat, has all the latest essential features, etc. A combination of all these factors results in a good-quality commercial oven.
6. Brand
If you are looking for equipment that lasts longer, works efficiently even in higher rush hours, and gets fixed in case of downtime, you must opt for a branded commercial oven & combi oven. Let us add a tip here. You can also order your equipment from the reputed online store and get extended services for every product. Yes, we know what you are thinking! No e-commerce store offers service after delivery but Restaurant.Store online shop does.
Conclusion
We hope our tips to select the right commercial oven to help you find the right equipment for your bakery/cafe/restaurant. If you wish to explore a wide range of commercial ovens under one roof, you can check out Restaurant.Store.
Moiz February 18, 2022
Features
Drop us message and we'll get back to you.