A Helpful Guide to Opening a Restaurant in India 2023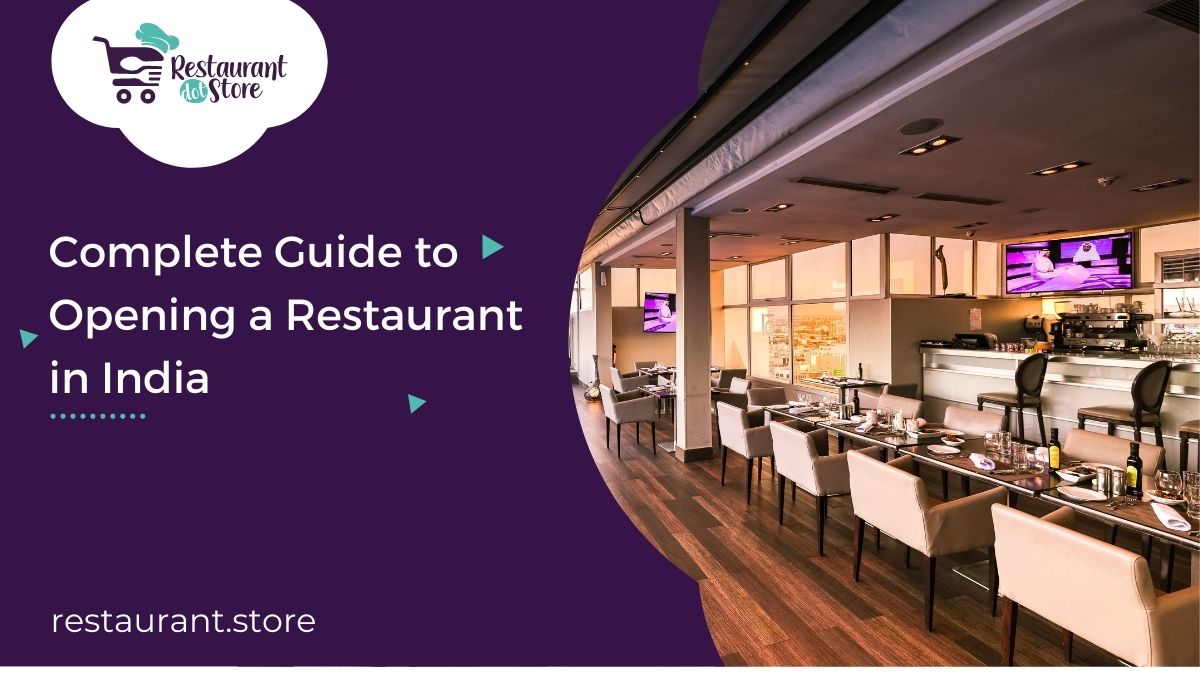 Opening a restaurant in India? With butterflies in your stomach, you must be having several plans for your new business. The theme of the restaurant, what is going to be served, restaurant name, dress code of employees, how are you going to promote it, and much more. 
But the primary question in your mind must be; how to open a restaurant business in India? India is a country of food lovers. With every 100 km, you get different cultures that introduce you to different foods. It is never a risky game for food businesses in India. Conditions apply; you do it the right way!
In this blog, we have mentioned all the necessary steps to take while opening a restaurant in India. No matter what type of restaurant you are planning to run; theme-based, quick service restaurant, or a traditional Thali restaurant, the below-given guide can be a savior!
Step-by-Step Guide to Opening a Restaurant in India:
1. Decide the Type of Restaurant
There are numerous types of restaurants that are popular in India. Some of these types are Specialty Restaurant, Fine Dining Restaurant, Bistro, Dhaba, Thali Restaurant, Quick Service Restaurant, Resto Bars, etc. 
For opening a restaurant in India, the cost involved varies along with other elements like menu, location, equipment required, etc. Make sure you have a clear idea of what type of restaurant you are planning to start.
2. Think of a Menu
The next step to opening a restaurant in India is to decide on the menu. Have nothing unique in mind? Don't worry as people usually look out for good taste and not only unique cuisines. But if you have anything unique in mind, go for it.
Menus are the first thing that attracts customers. Be it a short menu or 10 pages long menu, including what you can serve. People don't like it when items given in the menu are not deliverable. Do a quick research of the audience you are targeting; what do they like to eat, how much do they prefer to spend, etc.
3. Decide the Location
The next step in opening a restaurant in India would be deciding the venue location. Though people are ready to travel long distances for treating their taste buds, we recommend renting or owning a location that is in the primary area of your city and convenient for customers to travel to.
Another important factor while deciding the location is the competition in that particular area. If the area already has similar restaurants as yours, we need not mention the competition is going to be strong. Make sure the location of your restaurant is easily visible and accessible to customers.
4. Evaluate Cost Involved
This is the most imperative step to opening a restaurant in India. Before starting any business one must estimate the comprehensive cost involved. In the restaurant business, the cost of renting or owning the location, hiring the best staff, material cost, ordering quality equipment, etc. are involved.
Along with these, the cost of licenses, technologies to be used, marketing expenses, branding expenses, interior expenses, etc. must be considered.
5. Investment to Fund Your Restaurant
There are three factors involved in the investment and funding of your restaurant. In self-funding, you can utilize your savings and start a restaurant. In this scenario, there is no pressure to pay interest.
Another way is to secure business loans from a reliable bank. Though it involves a lot of hassles, it is a good option since you get to spend a large amount of money to make your big dream come true in a proper manner. More investment leads to perfect work. You can also consider investors who fund similar businesses. 
6. Hire Best Team
Having an experienced chef who cooks delicious meals along with a team of experts who are well versed in their profession indicates success for the restaurant. 
You can either hire staff personally or you can contact agencies providing skilled staff trained for opening a restaurant in India.
7. Order Equipment
It is crucial to list down all essential restaurant equipment required for your restaurant type. Make sure you consult your head chef while listing down the equipment since they are the ones who are going to use it.
You can either visit shops and purchase each piece of equipment manually or you can simply order online from any renowned commercial kitchen equipment online store. Restaurant.Store is a well-known online store that not only offers advanced commercial kitchen equipment but also offers expert consultation for commercial kitchen designing.
8. License and Documentations
Though there are some licenses and documentation that you can get once you start your restaurant, we recommend having everything ready prior to starting the restaurant.
Here are some licenses you must have- FSSAI, also called a Food License can cost around INR 5000 to 10,000, and needs to be renewed every year. A health/Trade License indicates that the restaurant follows health guidelines mentioned under the Health Department. It might cost from INR 500 to 50,000 depending on your state rules.
An eating house license is required for the outlet where you are going to serve food and drinks as legal permission and it costs INR 300 for three years. Be it a food truck or a fine dining restaurant, you must have a Shop and Establishment License and the cost might range from INR 200 to INR 4,000 per year. Another license is the NOC (if you are going to run your restaurant after 11 PM).
9. Manage Suppliers & Vendors
Starting a restaurant business and walls connecting with multiple suppliers and vendors for raw material and other requirements. 
Do your study and get connected with all the possible suppliers and list down the most reliable ones with good quotations. 
10. Branding & Marketing
Even a small restaurant deserves proper branding for enabling customers to remember the experience they had at your restaurant. Hiring a professional branding agency to get an eye-catching logo and other designs for collateral is a key step to opening a restaurant in India.
Conclusion
Follow all the above steps for opening a restaurant in India & bringing it to the peak of success. For quality commercial kitchen equipment, you can order here at Restaurant.Store.
Moiz August 6, 2021
Features
Drop us message and we'll get back to you.