How to Start a Quick Service Restaurant in 6 Easy Steps?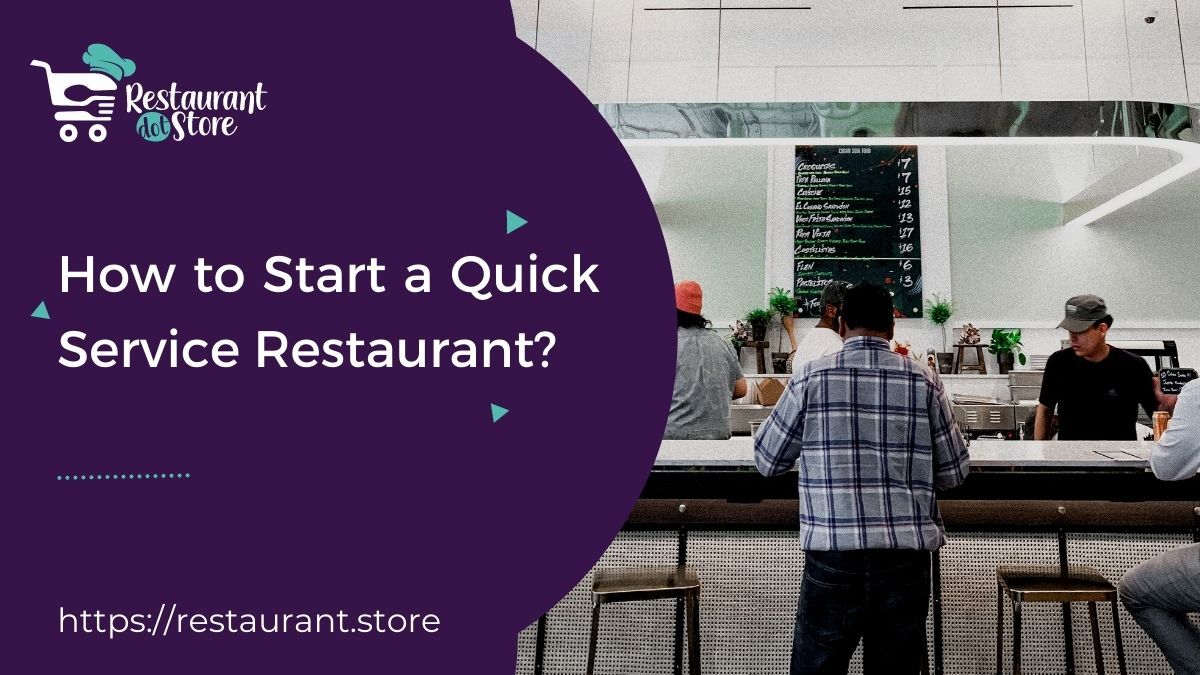 The Food Industry in India has always been heading towards creating more benchmarks of success. Right from small tea cafes, to multicuisine premium restaurants, we get to see a lot of variety in the food business.
One of the most popular food business cultures in the USA is now gaining popularity in India as well; Quick Service Restaurants. QSR Restaurants serve food that requires minimal preparation time, has a limited menu, and can be delivered quickly. Most of the QSR Restaurants offer fast food that is nutritious and can fill the hunger in one meal.
If you are planning to start a Quick Service Restaurant, let us tell you it is a good option since this restaurant type has many benefits and promising returns in the market.
Benefits of QSR Restaurant:
Limited menu with no scope for customization. Requires less capital to start.
Since it is a quick service restaurant, the number of footfalls is more than typical dining places.
Feasible for customers due to less prices. Hence, great scope for better revenue.
Most of the QSR offer self-service and take-aways from the pick-up counter. Hence, lesser staff and infrastructure costs.
In this blog, we are going to assist you in starting your Quick Service Restaurant with a bang.
Comprehensive Guide to Follow While Starting a Quick Service Restaurant:
QSRs are not only associated with fast food, restaurateurs can optimize their business in multiple ways. Let's get started.
1. Decide the Type of QSR:
You can either start a QSR with a window counter for only takeaways, or you can also have a sitting arrangement. You can either make it self-service for customers or assisted self-service or even full serviced restaurants.
Many factors are associated with deciding the type of QSR restaurant, one of which is capital. Depending on the budget and offerings, you can select the most suitable one. Another important factor can be the location. Make sure you choose the location wisely. Since it is a fast-food restaurant, the location has to be surrounded by a younger crowd and should be close to city centers.
2. Decide a Unique Menu:
The most important thing with any restaurant business is the menu. Offering something unique to the customers boosts up your chances of success.
For instance: McDonald's & Domino's, both are QSRs. McDonald's is globally known for its burgers, french fries, and wraps. Whereas Domino's is known as a Pizzas and their home delivery. Any globally known QSR restaurant has something unique to offer that indicates its brand identity.
Similarly, you can think of something that your city people are not much aware of. For example, you can think of offering Waffles & Pancakes that might be a new and exciting menu for most of the neighbourhood customers.
3. Licenses:
To start a QSR in India, you must have these 5 Licenses; Food License from FSSAI, GST Registration, Police Eating House license, Local Municipal Corporation Health License, and Fire License. We recommend having all the licenses in place before opening the QSR since the violation of laws can cost you a fine.
The Food License can cost 5000 INR and the Local Municipal Corporation Health License can cost around 3000 INR. The total amount of license cost can be around 10,000 INR.
4. Hire the Best Staff:
Depending on the menu you decide for your outlet, you can hire chefs, helpers, and other staff that are professional and most importantly experienced in preparing fast food.
Make sure the staff has years of experience since the QSR services are supposed to be super fast and inexperienced staff might struggle to complete the orders in time. There are many staff-providing agencies and companies in India where you can find professionals for your new restaurant.
5. Restaurant Equipment:
Since QSR serves unique fast food items, it is not recommended to use traditional equipment and utensils. For delivering authentic fast food just the way they prepare and serve in their countries, you must have restaurant equipment and tools along with the skilled staff.
For example, you can not prepare Pizzas on Tawa if you want to give that authentic Italian taste. Especially while preparing dishes like Waffles and Cakes, you must have commercial waffle makers and ovens. You can find this equipment at Restaurant.Store, it is an online commercial kitchen equipment store that delivers all over India.
Since the number of footfalls is huge in QSRs, the amount of pre-prepared items is also huge. Make sure you purchase all the equipment with higher preparation and storage capacities.
6. Branding & Marketing:
Naming your QSR is not branding. Having a registered name, logo, and a catchy tagline that suits your business is very important. You can also consider having all these printed in the packagings and for the in-store experience. Just the way Starbucks and Subway do. Right from having printed customized coffee mugs to staff uniforms, everything falls under branding.
Once you set your QSR up, along with offering amazing taste, good quality, delightful service, you also need a good marketing team. Good marketing efforts will get you more and more customers in less. Especially for QSRs, social media marketing is a great option.
Conclusion:
Following all these steps can not only help you with establishing your business but also boost your profits and reach the break-even point at the earliest. For ordering good-quality equipment, you can visit Restaurant.Store.
Moiz June 21, 2021
Features
Drop us message and we'll get back to you.