28 Essential Kitchen Equipment Every Restaurant Needs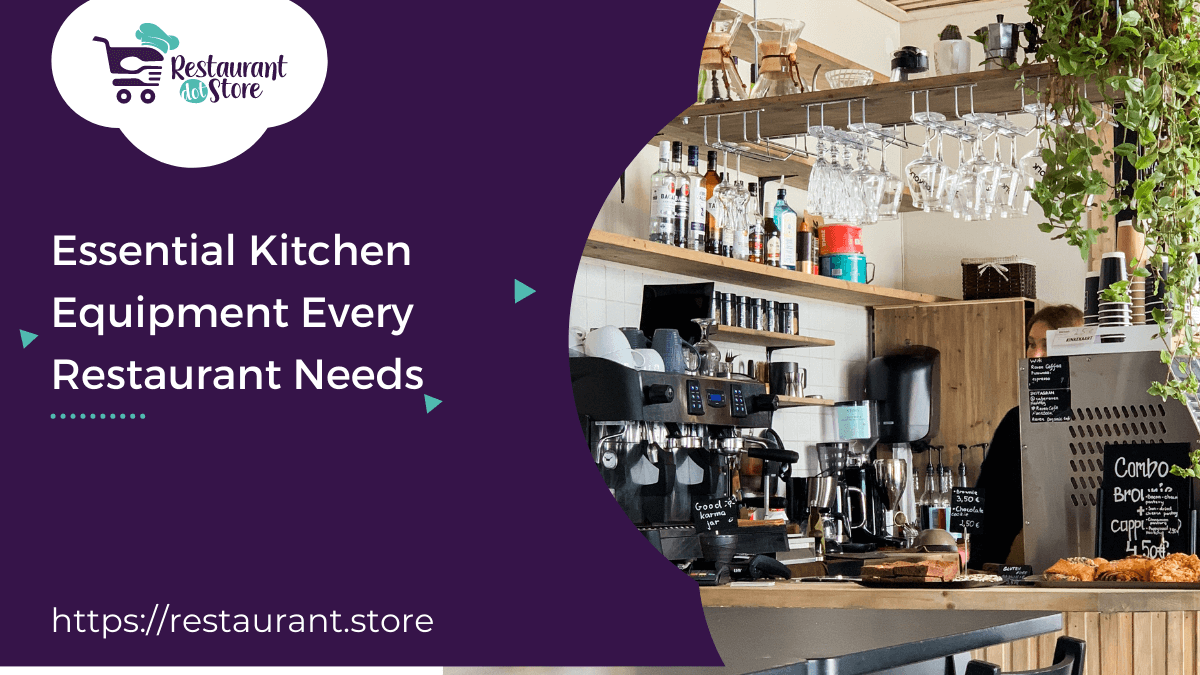 Restaurateurs are always looking for different solutions that will help them save time and effort. One of the nightmares any restaurateur would have are annoyed customers due to the long-serving time. Though restaurants are known for amazing taste and great service, another major factor that attracts customers is they get to eat delicious food in the bare minimum time.
To offer quick service and cook tasty food in less time, all you need to have is a commercial kitchen equipment list. According to your restaurant requirements, you can sort out equipment and order that equipment online.
The advanced technology equipment and appliances can save preparation time, cooking time, and enable restaurateurs to deliver quality food. In this blog, we are going to enlist the best commercial kitchen equipment with high-quality functioning.
Kitchen Equipment List That is a Must for Your Restaurant:
Griller:
Various items require grilling like sandwiches, toasts, meat, fishes, etc. Restaurants serving grilled food might get multiple orders at the same time. In such cases, having a single small griller can be a problem. Having large size electric grillers or gas grillers can be used to cook multiple orders simultaneously.
Salamander is one type of griller used for the overhead grilling of steaks, fish, gammon, chops, and sausages. Another type of griller is barbeque griller used to barbeque cottage cheese, mushroom, chicken, fish, or any other meat.
Waffle maker:
If your restaurant serves fast food like burgers, Pizza, or waffles, you must have a commercial waffle maker. Depending on the number of orders you get every day, you can purchase a single waffle maker or double waffle maker. Another piece of equipment that pairs with a waffle maker are Ice cream cone maker.
Fryer:
Whether you serve fast food or traditional food, a commercial fryer is a must-add to your kitchen equipment list. It can be used to fry a large number of vegetables, meat, or classic French fries. There are three types of fryers; electric, propane deep fryer, and air fryer.
Pizza ovens:
Every restaurant serves baked items like bread and Pizza. If your restaurant serves pizzas and lasagnas, you can opt for gas ovens since it is suitable for preparing more juicy & moisturized items.
Electric Bain Marie:
Another important piece of equipment to add to your essential commercial kitchen equipment list is an Electric Bain Marie. This is a large-sized electric box where you can store water in the base and place utensils on the top. Once switched on, the water starts boiling and due to the hot air, the items in the utensils are kept hot.
The Electric Bain Marie is a great piece of equipment for restaurants serving thalis where all the curries are prepared at once. Depending on your requirements, you can select Electric Bain Marie with a different number of cases.
Toaster:
A commercial toaster has the capacity of toasting 6-8 slices in a go. The toasters are made of a stainless steel body with a long life. Restaurants serving breakfast require a reliable, high-performance toaster.
Keep warm equipment:
A tasty meal loses its taste when it gets cold. Hence, every restaurant has different keep warm equipment to keep the food warm. Just the way Electric Bain Marie is used to keep curries warm, an Electric soup kettle is used especially for soups. Since soups are served at an extremely hot temperature, chefs prefer using electric soup kettles.
Another amazing piece of keep-warm equipment is a Heating lamp. Heating lamps are kept above the cooked food to keep it warm for a long time. Do you serve a buffet at your restaurant? Then these heating lamps can be a savior! It prevents food from going cold even in an air-conditioned room.
Ice crusher:
Do you serve milkshakes, juices, mocktails, cocktails, or ice cream? Then you must get a good quality ice crusher.
Cake/pastry cabinet:
Restaurants serving cakes, pastries, or any similar kind of desert can display these items in cabinets. Placing these cabinets at the entrance can enhance the look of the restaurant. There are 2 types of cake cabinets; hot & refrigerated.
Refrigerator:
A high-quality commercial refrigerator is designed especially for restaurants. It enables chefs and staff to frequently open the door which is a limitation in ordinary refrigerators.
Also, commercial refrigerators contain huge space for items and can store multiple large-size vessels at the same time.
Coffee machine:
The best commercial coffee machine has joystick levers enabling consistent & excellent brew. It also comes with a heat-exchanging boiler that can heat water and steam milk simultaneously. Some of the coffee machines have automatic water-refill features.
Cold beverage dispenser:
The primary function of offering this kitchen equipment list is to offer equipment you should order to save time. A cold beverage dispenser can store litters of beverages and can keep them fresh as well. Waiters can simply turn on the tap and get the glasses full as the order comes.
There are various types of cold beverage dispensers; Juice dispensers, Cold coffee dispensers, soda dispensers, etc.
Hot beverage dispenser:
Similar to a cold beverage dispenser, a hot beverage dispenser is used to store a large number of hot beverages like water, hot chocolate, etc.
Commercial blender:
Blenders are used to blend fruits and vegetables for juices, milkshakes, gravy, etc. Make sure you buy Soundproof blenders to avoid noise in the kitchen.
Water cooler:
A commercial water cooler is a large chilled water dispenser that is used to store litters of cold water ready to serve. This equipment is a must-buy if you own a big restaurant with hundreds of customers visiting every day.
Gas range:
A good quality large gas range is one of the most important weapons of the chef. More the frequency of orders, the bigger the gas range. These gas ranges are easy to access and can come with a single burner to 6 burners.
Bhatti:
A Bhatti is a table-like thing that has gas burners under the steel flat base. These bhattis are used to cook Dosa, Uthappa, Chapati, etc. The best part about bhattis is you can prepare several items in a go, that too in a few minutes.
Tandoor:
A tandoor is typically used to make rotis, kulchas, parathas, and roast meat, paneer, etc. You can buy gas tandoor or electric tandoor as per your need.
Worktable:
A large commercial work table is always good equipment to keep stuff, cooked food ready to serve, other equipment, etc. Make sure the work table you buy has an attached sink and can bear heavyweight.
Exhaust hood:
The exhaust hood functions as an air purifier. It takes out all the strong smell, smoke, and airborne cooking byproducts from the air in your kitchen. Be it a small cafe or a large restaurant, an exhaust hood is a must. There are 2 types of exhaust hoods; With filter and With motor.
Dishwasher:
This is amazing kitchen equipment to cut some costs. Instead of hiring full-time dishwashing staff, you can simply buy a high-end dishwasher that can clean a big bunch of utensils frequently.
Rice cooker:
Cooked rice is an important item for every restaurant. It can be used in cooking jeera rice, biryani, etc. An electric rice cooker can get the rice ready in a very short time as compared to traditional rice cooking methods. Chefs can cook a bulk of rice at a time.
Gravy machine:
Every dish has a gravy base. There are 2 types of gravies served in Indian restaurants; red and yellow. Since chefs prefer preparing these gravies in bulk, it requires a large size gravy machine. These machines are capable of chopping and grinding solid vegetables into a fine smooth paste.
Dough kneader:
Be it a paratha, roti, or chapati, it can be made delicious only if the dough is kneaded properly. A commercial dough kneader can knead 5 kg to 40 kg of flour in a single go. Such dough kneaders do not require any human intervention.
Peeler & cutter:
This task is considered as one of the most time-consuming and monotonous work by restaurant staff. A peeler & cutter is great equipment to save time since it gets the work done faster.
Steamer:
Momos, Idli, Dhokla, etc items require a good quality steamer with a capacity to steam a large number of items.
Barbeque:
Does your restaurant serve barbeque? Are you using those traditional barbeque machines with less capacity and slow processing? All you need to buy is a commercial barbeque. There are 2 types of barbeque machines; Steel charcoal barbeque and Gas rotating barbeque.
Shawarma machine:
A Shawarma machine is used to mince the meat, bake it, and make a perfect Shawarma roll. There are again 2 types of Shawarma machines; Tabletop and With cabinet.
Conclusion:
If you are looking for solutions to cut off some cost and preparation time at your restaurant, you can consider this restaurant equipment list and list down the equipment you require. To order high-quality kitchen equipment with advanced technology in India, you can visit Restaurant. Store; best kitchen equipment e-commerce site.
Moiz March 22, 2021
Features
Drop us message and we'll get back to you.