Top 4 Reasons Why Display Counters Are Important for Restaurants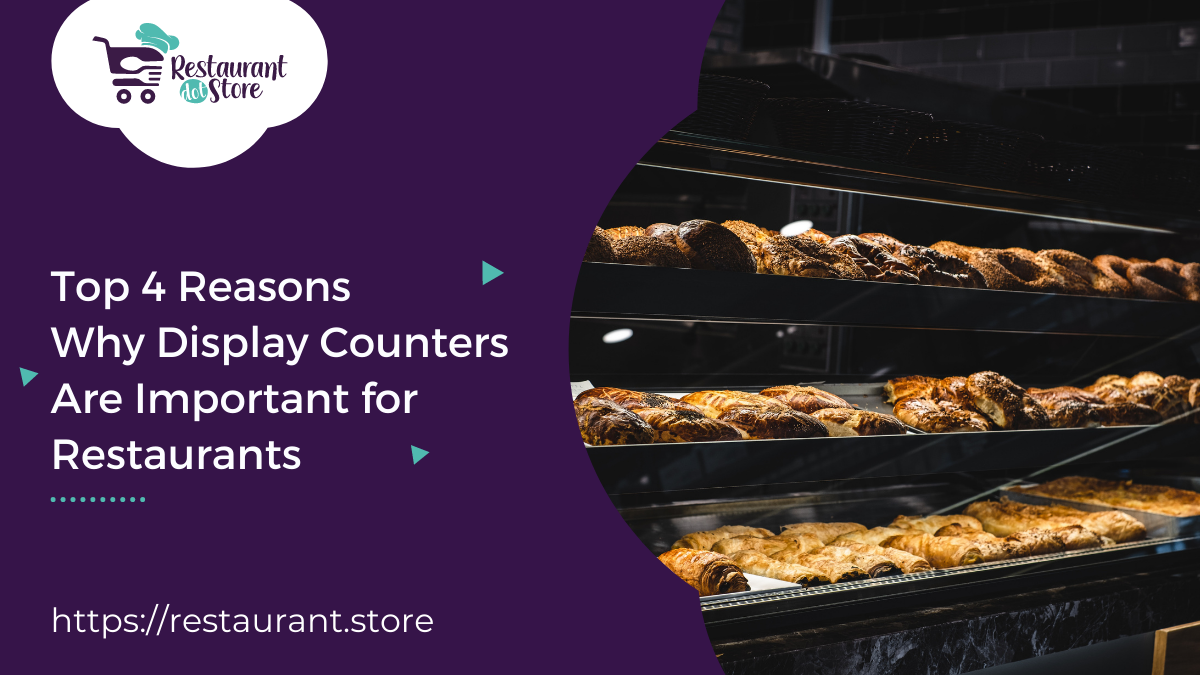 Are you having double thoughts about the glass display counter for your shop or restaurant? Let us help you with a good final decision. Before we start, here is a small introduction about display counters- These are the commercial kitchen equipment usually placed at the entrance of restaurants where you can display your best dishes that are visually appealing food items.
In this blog, I will be sharing some secrets why restaurants & bakeries are using display counters for their shops. So let's get started.
Top 4 Reasons Why Display Counters Are Important for Restaurants
1. Attract Customers
Wonder why all restaurants & bakeries place their display counters at the entrance or the billing counters? There is a business strategy behind it. The entrance of your restaurant and billing counters are the two places where customers have to spend some time or pass by. The primary purpose & benefit of display counters is to attract customers' attention and motivate them to purchase more or come into your restaurant.
The lights, trays, and color of the display counters play a vital role in attracting customers and making them more appealing. Anything appealing at the entrance can be an influencing factor as it adds to the aesthetic look of the restaurant.
2. Influence to Purchase More
Anything tasty, decorated professionally, and displayed at the entrance in a glass display counter is enough to attract customers' eyesight and let their minds get stuck at those items. This strategy works wonders with small children in particular. Seeing a colourful dessert with tempting toppings at the counter with golden light flashing on it can influence customers to come in and eat that dish. It is equally important to select the right item to be displayed and what color light should be there to make it more visually appealing.
3. Keeps the Food Fresh
Another major benefit of having a display counter is that it comes with temperature control. Depending on the food items you wish to display, you can set the temperature accordingly. For instance, if you are going to display puffs or pattices, you can adjust the temperature warm and if you wish to display bakery desserts, you can keep it cool. This displays the food items in an attractive manner as well as keeps the food fresh and tasty! You can simply take out the item from the counter and pack it for the customers right away.
4. Gives a Sense of Hygiene
One of the most common concerns any customer has is the hygiene and cleanliness of restaurants/bakeries. Gone are the days when food items were displayed in open areas. With new and trendy ways, you can showcase the levels of cleanliness at your restaurant and impress the customers. Since the glass display counters are packed properly, no insects can enter the counters and keep the food away from getting bad.
Conclusion:
Every piece of equipment has its own importance and can be extremely helpful for restaurateurs & chefs. Display counters have two-in-one benefits; they can be used for marketing purposes as well as for keeping the food fresh. Selecting the right bakery counter can be tricky. You must decide where to place it, and measure the area of that place to order a perfect fit display counter. Also, depending on the items to be kept on the counter, you can decide the specifications of the counter. Make sure you purchase a frost-free, easy-to-use, ventilated cooling system, vacuum insulated glass, and adjustable shelves.
You can order the best-quality display counters from Restaurant.Store, an online store to get every type of commercial kitchen equipment. For more details, click here.
Moiz December 20, 2021
Features
Drop us message and we'll get back to you.