4 Best Tips of Commercial Deep Fryer With Buying Guide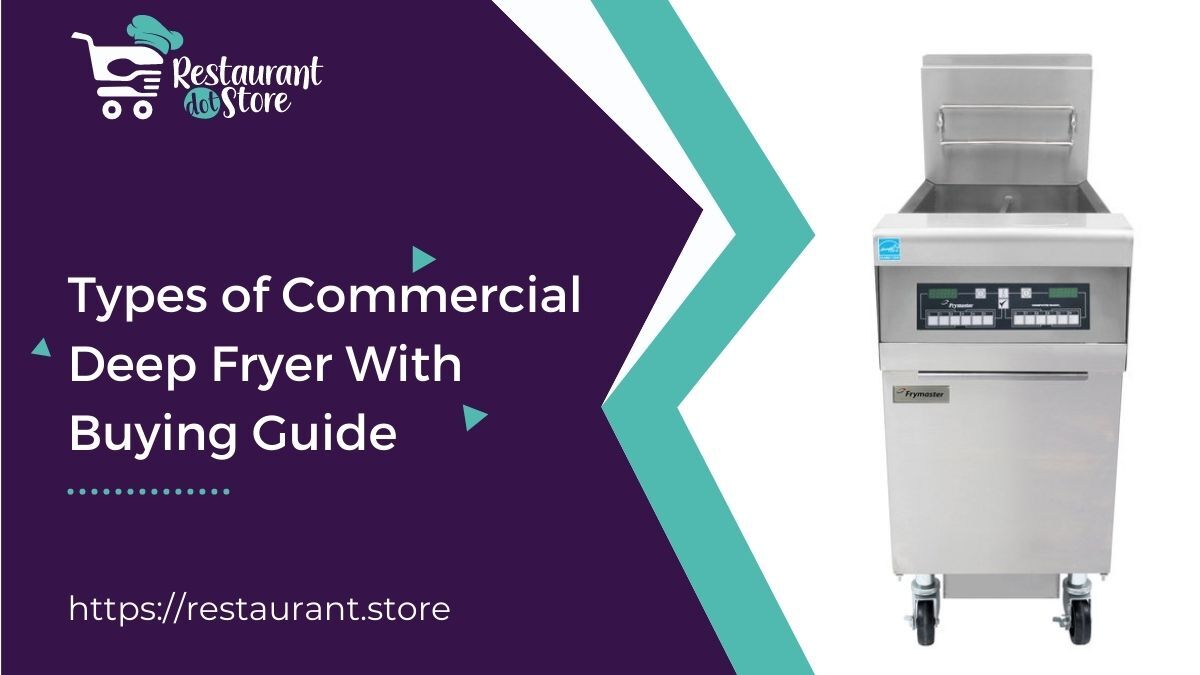 The standard cooking process applied in any restaurant involves deep frying of vegetables & meat to keep everything prepared. Along with preparation, many items are fried in the commercial deep fryers. In a nutshell, commercial deep fryers are one of the most widely used commercial kitchen equipment.
In this blog, I am going to share about the types of commercial fryers in India and help you select the best deep fryer for your restaurant/cafe. So let's start.
Types of Commercial Deep Fryers
Though there are plenty of subtypes of commercial fryers, I am going to focus on 2 primary umbrella types of fryers; electric deep fryer and gas deep fryer.
Since the fuel types of both these fryer types are different, the results are a bit different as well. Electric commercial fryers in India are supremely energy-efficient and convenient to move around. The temperature rises faster and is ideal for Quick Service Restaurants where customers are in rush. An electric commercial fryer in India is easy to install and use. Since every commercial equipment comes with a manual, it is easy to understand the functionalities and start using the equipment right away.
An electric deep fryer is not a good option if you are trying to save some energy and want your device to have a better maximum oil temperature.
On the other hand, gas commercial deep fryers have heating elements beneath or on the sides of the frying pan. A gas commercial deep fryer is preferred by high-volume restaurants as it has more high-capacity options. Along with faster heat-up times, gas fryers also have higher maximum temperatures. Compared to electric fryers, gas fryers provide gentler heat to the oil and allow items to fry properly. Due to gas pipelines, gas fryers are installed in a particular fixed location in your kitchen.
Now that you have read about the 2 major types of commercial deep fryers for restaurants/cafes, let's check out how to select the right commercial fryer for your business.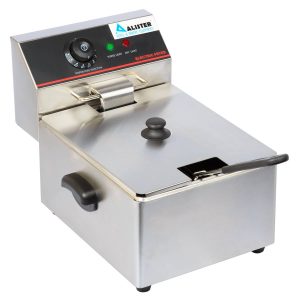 1. Durability
One of the most vital things is to check the life of every commercial kitchen equipment. There are various factors that define the durability of commercial fryers; body material, fuel type, quality, usage, etc. Commercial fryers with stainless steel bodies have a longer life duration and bear heavy damage.
2. Capacity
Depending on the production, select the right deep fryer with perfect capacity. For small cafes, deep fryers of 4 to 8-liter capacity are enough. For high-volume restaurants, deep fryers of 10 to 20-liter capacity are enough. If your restaurant serves veg and non-veg, I recommend buying a Double Fryer for frying veggies & meat separately. Along with capacity, the cost of commercial deep fryers varies.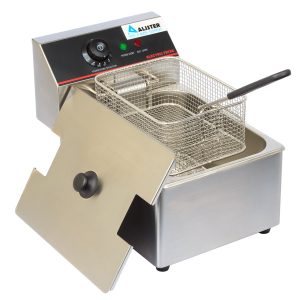 3. Easy to Maintain
Another important factor to consider while purchasing a commercial deep fryer in India is to check whether the device is easy to maintain or not. Since we are talking about deep fryers in this blog, the equipment holds oil all the time and is prone to have oil stains & greasiness. Hence, it is extremely important to clean the fryers after every 2-3 days. Check whether your new equipment is easy to maintain or not.
4. Advanced Technology
If you are planning to start a high-profile restaurant, collecting equipment that is future-ready is recommended. For instance, a high-volume restaurant can invest in High-Efficiency Single Tank Fryer With Computer Controls (without Filter)- Gas or a High-Efficiency Twin Tank Fryer With Digital Controls And In-built Filter- Gas. This equipment are easy to access and users can simply set the desired frying temperature and start cooking. Such equipment also has reliable filtration options that maintain food quality along with boil-out temperature control and many other advanced features.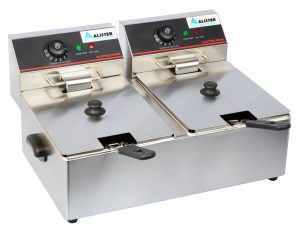 Conclusion
So if you are planning to buy the best deep fryer for your restaurant/cafe, you now know the types and factors to consider while purchasing the equipment. You can explore a wide variety of commercial deep fryers and order the most suitable one for your business from Restaurant.Store. Restaurant.Store is an online store where thousands of commercial kitchen equipment are available and can be delivered to your doorstep.
Moiz May 5, 2022
Features
Drop us message and we'll get back to you.