Food Truck vs Restaurant: Which Is The Best Option And Why?: 6 Steps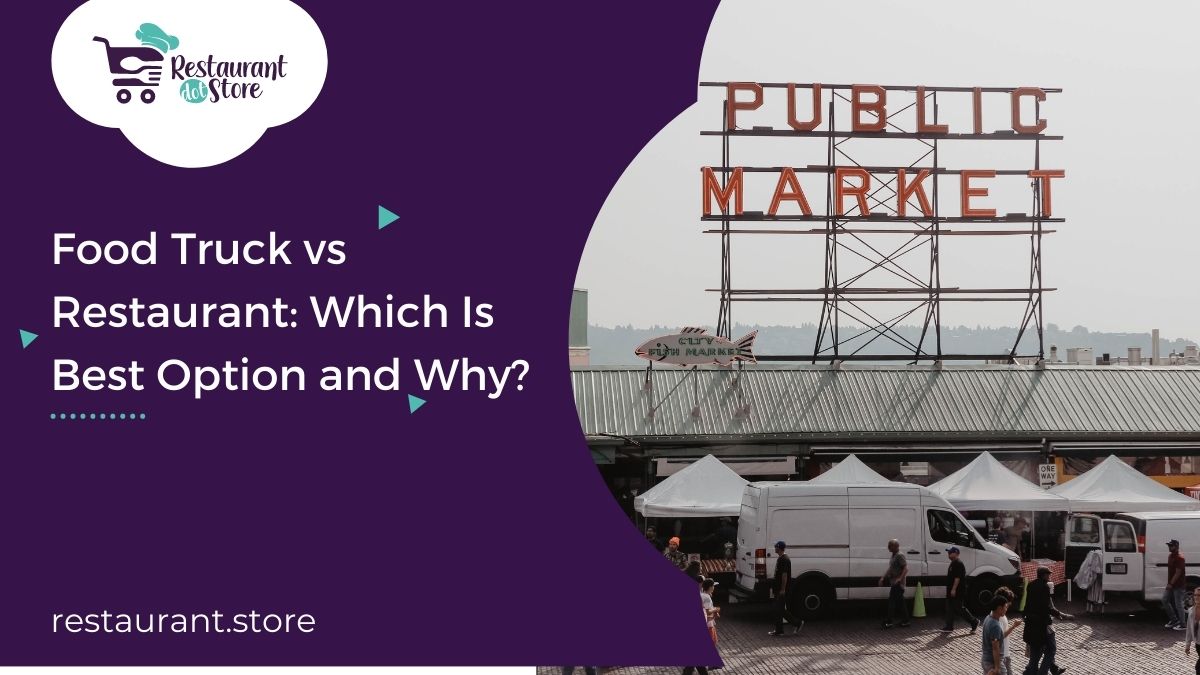 Starting a food business in India is an alluring subject, and one of the biggest questions it asks is how to start one? Food truck vs Restaurant? Which is better? Every person willing to quit the job and start a new business considers the food business since it is a never dull industry! People won't stop eating out or trying unique cuisines every few days. The best example of this is the recent pandemic situation. Every restaurant, quick service restaurant, and even small cafe managed to serve their customers even when stepping out was not allowed.
But starting a food business requires one to make numerous important decisions. There are many ways you can serve people tasty food or beverages. One of the popular choices is the Restaurant Business. But have you given a thought to Food Trucks? The food truck business has taken a great start in India and has become a potential food business sector for starters.
In this blog, we are going to explore what are the key differentiators between Restaurants and Food Trucks. 
Food Truck vs Restaurant. Which Is the Best Option and Why?
If you too are juggling with thoughts of starting a restaurant and starting a food truck, here's a relief. Go on reading and find out what fits the best in your business scenarios.
1. Capital
Even a small-scale restaurant requires a lot more capital as compared to food trucks. Renting or buying the place (200,000 INR if you opt for renting), staff salaries, maintenance expenses, raw materials, licenses, and equipment; everything involves cost. Whereas if you are going to start a food truck, you will require to have a renter or own truck. Even if it is 2nd hand, it will cost you around 400,0000 INR. Also, staff salaries, maintenance expenses, raw materials, licenses, and equipment; everything similar to restaurants involves cost.
A food truck requires less staff. Since the menu is usually limited and mostly has fast food the raw material and equipment will be less expensive. So if you have less capital and a limited budget, you can surely go with Food Trucks. Not only the initial investment, but food trucks also require a less operational cost.
2. Staff
When we talk about staff, a restaurant must have a large group of people working in and out of the kitchen. 1 head chef, 1 junior chef, 1 helper, 1 captain, 1 manager, 2 janitors, and at least 3 waiters. Many times the number of staff is directly related to the menu you offer. For instance, a restaurant that serves Indian cuisine, as well as Chinese food, can have 2 different chefs for each cuisine. 
The number of items in the offering is always more in restaurants than in food trucks. Food trucks usually offer fast food that can be prepared quickly. Also, it doesn't require captains or managers, or even waiters in some food trucks. So if you have a small team to start with, and cannot find a large group of people to work for you, a food truck is a good option. 
3. Flexibility
Food trucks can quickly change from one menu to another. For instance, you can quickly change your food truck specials from Chinese food to South Indian cuisine and still get a good ROI. But restaurants have an image generated within the minds of their customers. How would you react if your favorite Punjabi restaurant switches to Italian cuisine? 
One of the benefits of food trucks is this flexibility. Food trucks have the scope of switching the menu, rebranding themselves, and re-establishing themselves.
4. Equipment
A food truck requires less equipment. Rather every food truck has limited space for appliances and equipment and that is why food truck owners prefer multi-functional equipment. 
In restaurants, you require numerous equipment, with large cooking & storage capacities. Though the investment cost is more in restaurant equipment, this exclusively designed equipment can work miraculously and save a great time for your chefs. 
5. No Fixed Location
Food trucks do not have a fixed location. You can park your truck at one prime location of the city for a week and can go to another prime location. This is not the case with restaurants. Many people Google 'Restaurants near me' to find nearby good restaurants. These people will skip driving far even if there is an amazing restaurant.
But again, there is another side to this. Your loyal customers won't be able to find you if you keep moving which is usually the case with food trucks. It is hard to estimate each location will offer a similar response to the food.
6.Order Size and Revenue per Customer
One of the biggest elements of food truck vs restaurant is the profit generated. Restaurants usually get big orders from each table or take-away. However, food trucks generate less revenue per customer since the order size is less. 
Since the number of customers is more in restaurants, the prices are higher, and also the frequency of customers is bigger, you can expect drastic differences between the profits generated in food trucks vs restaurants.
Conclusion:
There is no winner in food trucks vs restaurants. Though there are multiple benefits of food trucks, it can be a great option in certain scenarios; low budget, experimenting with the food business, etc. Depending on your situation, you can either start a restaurant or a food truck. You can select whatever suits your requirements.
Be it a restaurant or a food truck, make sure you put all your efforts to make it a hit and please customers with tasty food. One important factor that can ease your work at the restaurant/food truck is the quality & efficient equipment. You can order commercial restaurant equipment from Restaurant.Store.
Moiz August 20, 2021
Features
Drop us message and we'll get back to you.