Commercial Kitchen Renovation: 6 Amazing Tips To Consider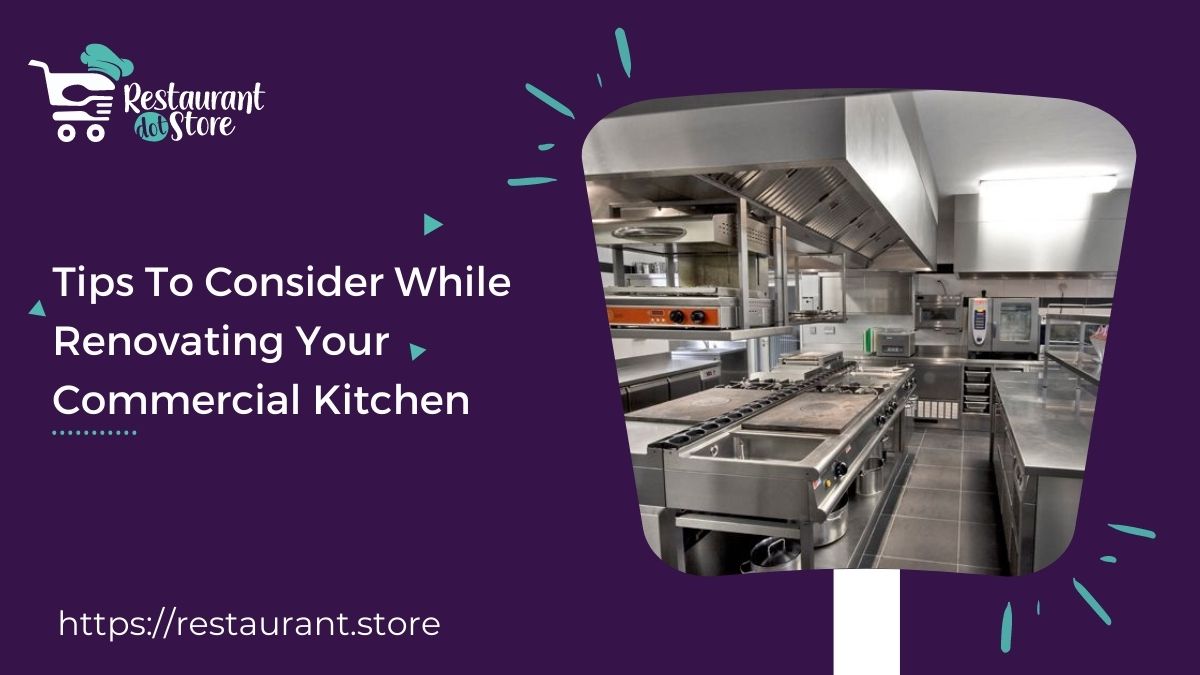 Wonder what you could do if you had a little extra space in your commercial kitchen? You could use it for kitchen renovation and arrange new latest technology equipment or you could hire more staff as it won't be too congested. What if your commercial kitchen was more resourceful? What if it had equipment suitable for multiple tasks?
Every commercial kitchen owner gets these thoughts once in a while. All these can be achieved with a commercial kitchen renovation.
Kitchen remodeling involves a big list of tasks and might take forever to complete if you do not have a plan. We are here to make it a bit easier for you by offering some best practices for kitchen renovation.
6 Tips To Consider For Your Commercial Kitchen Renovation:
1. Kitchen Renovation Plan:
The fundamental step while renovating the commercial kitchens is to prepare a well-proof plan. The commercial kitchen owner must decide whether to shut down the restaurant or renovate the kitchen side by side. Though shutting down the place till renovation is done makes things easier and quicker. But restaurateurs have to bear the cost of the temporary closure. On the other hand, renovating the commercial kitchen side by side keeps the work going but the staff might find it difficult to manage the orders.
2. Renovate the menu
Now that you are planning a kitchen renovation, this is a great opportunity to consider renovating the menu as well. Adding new items to the menu can get you a wider range of customers. Why renovate the menu while renovating your kitchen or complete restaurant?
Let us explain with an example. Restaurateurs who wish to add bakery items like pies, pastries, etc in their menu of traditional Indian food need bakery equipment, space to locate that equipment, and equipment to display the bakery items. While kitchen renovation, you can consider buying the latest compact bakery equipment and also create free space for that equipment.
3. Kitchen Renovation Budget
The most important factor for the commercial kitchen renovation is setting a cost or estimating the budget. The cost of designing, cost of the latest technology equipment, cost of rebuilding, etc needs to be pre-calculated. Renovating your restaurant or commercial kitchen is as good as building a new one. Hence it is important to look at the cost associated with renovating as an investment.
4. High-tech equipment
A kitchen renovation is not completed without the latest equipment models. Whether you are renovating your menu or not, replacing old equipment with the latest multi-purpose kitchen equipment is always beneficial. While purchasing new commercial kitchen equipment, consider the number of items to be prepared every day and decide the size of the equipment. Also, make sure you buy multipurpose equipment instead of buying different equipment for different purposes. This will save a lot of space.
Another important thing to consider is the quality of the equipment. Good quality equipment has a long life and requires less maintenance. The equipment must reduce the work time. Hence, try to switch to semi-automatic or automatic equipment.
5. Kitchen Renovation Flow
Professionals understand the importance of flow management. While working in the kitchen, everything must be handy for the chefs and other staff. Every food preparation process has a flow. Keep refrigerators away from gas range as it will help keep the refrigerators cool. Make sure the cooking table, gas range, oven, fryer, and other essential equipment are all located in a line.
Imagine you are renovating a cafe kitchen. Here you must locate the bean storage near the milk dispenser, next to the coffee machine. And then next to the machine, you can place the bowl of sugar cubes and cream.
6. Hire professionals
Hire professional commercial kitchen designers who will not only help you in kitchen renovation and to set up your new kitchen but also guide you about the optimum usage of the latest kitchen model. The professional experts arrange the kitchen in a way considering even the future requirements.
Conclusion
Your commercial kitchen renovation layout is based on several factors and we have tried to cover almost all factors by offering some best tips here. Restaurant.Store is one of the best commercial kitchen equipment providers online in India, where you can get a range of huge equipment for large-scale hotels to a range of small equipment suitable for small-scale kitchens and Restaurant.Store also helps you in setting up your dream kitchen in a hassle-free way.
Moiz April 5, 2021
Features
Drop us message and we'll get back to you.