4 Ways to Design A Chef Friendly Commercial Kitchen Layout Like a Professional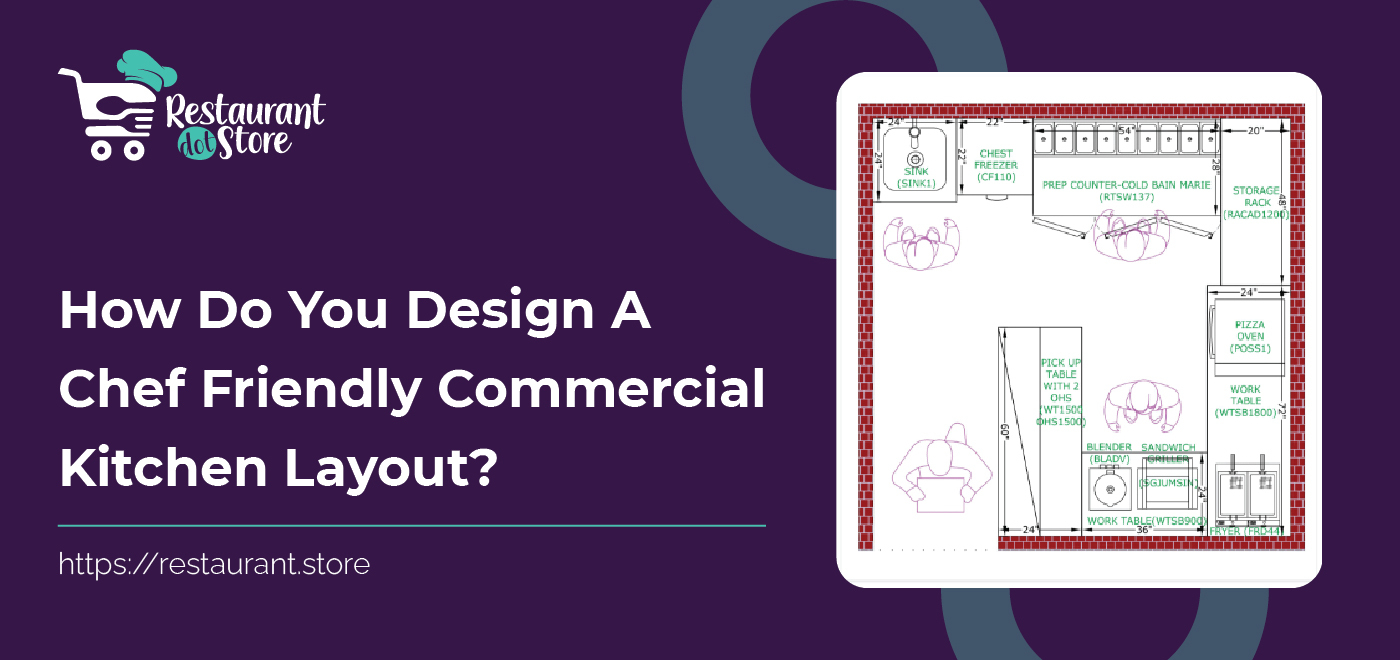 Designing a commercial kitchen layout for restaurants, cafes, bars, and even bakeries is a crucial task and needs expert assistance. Since chefs are the heroes of kitchens, we believe every kitchen design should be designed keeping in mind the convenience of chefs and helpers.
Make sure you pay attention to the design while building your own restaurant or bar since renovating the kitchens later puts a hole in the pockets. In this blog, we are going to help you learn how to design chef-friendly commercial kitchen layouts.
But before that, we have some tips to offer that you can consider while designing your commercial kitchen layouts.
Things to consider while designing your commercial kitchen layouts.
1. Consider Menu
According to the items in your menu, you can analyse what equipment you would be needing to prepare those items. If you offer a complete main course and other items, you would be needing a large space for the kitchen to allow chefs and helpers to work conveniently as well as adjust all equipment.
2. Number Of Employees
Considering the number of employees while designing your restaurant kitchen layout is very crucial since along with commercial kitchen equipment you also need to consider enough space for each employee.
3. Storage
Be it a small cafe or a large five-star hotel, every food business requires enough space for the storage of raw material, ingredients, and other stuff.
4. Equipment
This is the most important factor to consider while designing kitchens. Even if we consider the basic equipment such as refrigerator, microwave, mixer grinder, food preparation table, cooking range, and bain-marie, all this equipment takes a lot of space. The size of equipment depends on the frequency of orders.
Now let's head towards the different types of restaurant kitchen layouts and help you find the right one for your business.
5 Popular Commercial Kitchen Layout Types
1. Assembly Line Layout
As the name suggests, this type of Commercial Kitchen layout is designed in such a way that the process of food preparation to delivery takes place in a straight line. All the equipment is placed according to the stage they are required at. For instance, the microwave oven is placed after the dough mixer.
This type of kitchen setup for a small restaurant is ideal for quick service restaurants, with crowded hours, and restaurants with high-volume meal preparation. If your restaurant has a limited menu item, you can go with Assembly Line Layout as the procedures of meal preparation are fixed and you can deliver the food quickly.
2. Island Layout
An island in the center of the kitchen where the meal is cooked. This layout has a huge island-like platform in the middle where all cooking-related commercial kitchen equipment are centered and all other equipment are placed surrounding the island.
This type of layout helps chefs to supervise the activities and communicate with the staff. Make sure you arrange the equipment properly; oven, fryer, cooking range, and other cooking equipment in the center to save time.
3. Zoning Layout
A layout design that has different zones for every task. For instance, there can be separate zones for cleaning, separate zones for food preparation, zones for cooking, etc.
If your restaurant offers multiple cuisines, you can also have dedicated zones for different item categories. For instance, one zone for Indian cuisine, one zone for bakery items, one zone for chinese cuisine, etc. This allows the staff to prepare multiple dishes at a time. According to your requirement, you can place the equipment in the right order and in the zone, they are demanded more.
4. Ergonomic Layout
Are you planning to have a large area for your restaurant kitchen? Or are you planning to start a commercial cloud kitchen? Then you can surely opt for an Ergonomic Layout. This layout allows your staff to move as little as possible to complete their tasks.
This layout can be called a mixture of Island Layout and Zoning Layout. Similar to Island Layout, the food is prepared and cooked on the central platform where all cooking-related equipment are placed. There are separate zones for food delivery, staff changing room, storage room, etc. Considering the space occupied by such kitchens, the equipment are situated systematically, and usually, a large number of equipment with bigger capacities are used.
5. Open Layout
This is the last layout on our list and one of the most trending layouts in the restaurant industry. The Open Layout allows customers to watch your staff cooking and preparing mouthwatering dishes for them. This type of layout delivers transparency and generates a sense of trust among customers regarding hygiene and the quality of food.
If you are going with an Open Layout, make sure to place hot cooking equipment like gas range, fryer, etc. far away from customers' tables. Also having a high-quality exhaust system is a must in Open Layout kitchens as the heat and smell may be unpleasant and strong for customers dining there. 
Now that you know what are the top 5 kitchen layout designs trending in India, as per your requirements, you can select the best for your restaurant/bar/cafe.
Getting a perfect kitchen layout is extremely important since a lot depends on it; preparation time, delivery time, equipment arrangements, etc. Along with selecting the right layout, it is also important to purchase the right equipment for your layout. So if you are in sixes and sevens about the commercial kitchen equipment, Restaurant.Store can help you select the right ones and also assist you with designing. Restaurant.Store is not just an online store offering commercial kitchen equipment but also offers expert assistance in commercial kitchen design and installation.
Moiz October 29, 2021
Features
Drop us message and we'll get back to you.