Bar Equipments 2023: Your Useful List of Essentials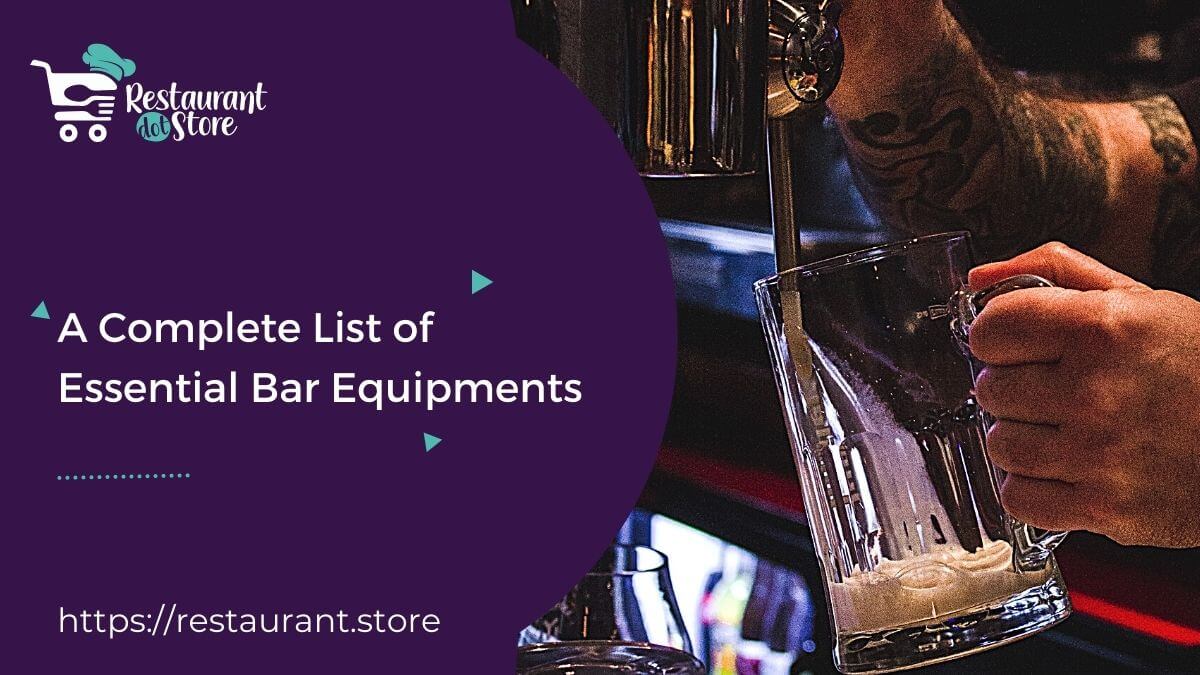 There's no doubt that opening a bar is easier when you have a detailed idea of how to start, which was covered in our last blog. But before you open the doors to your dream bar business, it's imperative that you have all the bar equipment you need to transform your idea into a full-fledged reality.
In this blog, we cover a complete list of the most essential bar equipment you will need to maintain efficiency in the kitchen.
What Bar Supplies Should You Have?
Bear in mind that the type of equipment will depend on your bar business's operations. although, here we mention the essentials.
1. Bar Equipment: Blender
A commercial blender is must-have equipment for every bar, whether it's making alcoholic milkshakes or blended cocktails.
Restaurant.Store Expert Recommendation: The Alister commercial or bar blender comes in a variety of options such as advanced technology, silent blender as well as ones with digital displays, touch screen controllers, LED screen as well as manual controllers.
All the blenders have a fibre body and come with varying capacities (0.9, 1.25, 1.5, 2 litres) to choose from according to your needs.
2. Bar Equipment:Bar Refrigerator
Bar refrigerators are an essential bar supply for every bar and pub. It helps provide chilled drinks to customers whenever necessary.
Expert Recommendation: Our commercial electric refrigerator has a powder-coated body and comes with 2 options ranging from 2-3 glass doors, different volumes such as 196 and 302 litres along with shelves and digital display.
3. Bar Equipment: Cocktail Station & Liquor Rail
Cocktail stations are one of the handiest and vital bar equipment needed as they can be used to create signature cocktails, store ice, and even chill beverages.
Liquor rails, on the other hand, held in keeping all liquor organized and within arms reach for the fastest service!
Expert Recommendation: Our combination of cocktail station and liquor rail comes with a stainless steel body and splash-back to make cocktail-making easy and efficient.
4. Bar Equipment: Ice Cube Machine
It goes without saying that when customers come to your bar, they want refreshing chilled drinks, for example- scotch on the rocks, or cocktails.
An ice cube machine thus becomes a worthwhile investment for your bar business.
Expert recommendation: The Hoshizaki ice maker offered at Restaurant.Store is one of the most ideal equipment's for all bar owners as it provides almost symmetrical square cubes!
It comes in 3 different options with three different capacities such as making 41 kg, 72 kg and even 100 kgs of ice cubes per day. Also, all of them have a stainless steel body and come with one shelf.
5. Bar Equipment: Wine Chiller
A wine chiller is the perfect bar supply option when it comes to storing wines and ensuring they remain chilled and mature amazingly.
Expert Recommendation: Our wine chiller collection comes in two amazing options ranging from a capacity of 45 bottles (750ml) each with a temperature range of 5°C to 18°C, and 113-194 bottles (750ml each) with a temperature range of 5°C to 22°C, depending on your bar needs.
6. Bar Equipment: Glass Washer
With a glass washer, your bar business can increase efficiency and profitability by allowing bartenders more time to make drinks rather than washing glasses by hand. You also protect the reputation of your bar by serving customers drinks in spotless and clean glasses!
Expert Recommendation: At Restaurant.Store we offer a high-quality commercial under-counter Whirlpool glass washer that is the perfect solution for any bar. Our glass washer includes one glass basket, one spoon holder, and 2 ltr per cycle capacity for quick washing!
Other essential bar equipment are:
Shakers & Stirrers
Bottle & Can Openers
Wine Openers
Garnishing tools
Muddlers & Cocktail Jiggers…… and many more!
Final Thoughts? Stock Up!
Now that you have an essential bar equipment list, you can start focusing on other activities that come with starting a bar business such as hiring the best staff and building a brand. With the right equipment from Restaurant.Store, your bar will have a solid foundation and the efficiency and productivity that is needed!
Looking for something else? Not sure what else you need? Get in touch with us and our experts will get back to you!
Moiz May 17, 2021
Features
Drop us message and we'll get back to you.