Comprehensive Guide to Starting a Bar in 10 Steps.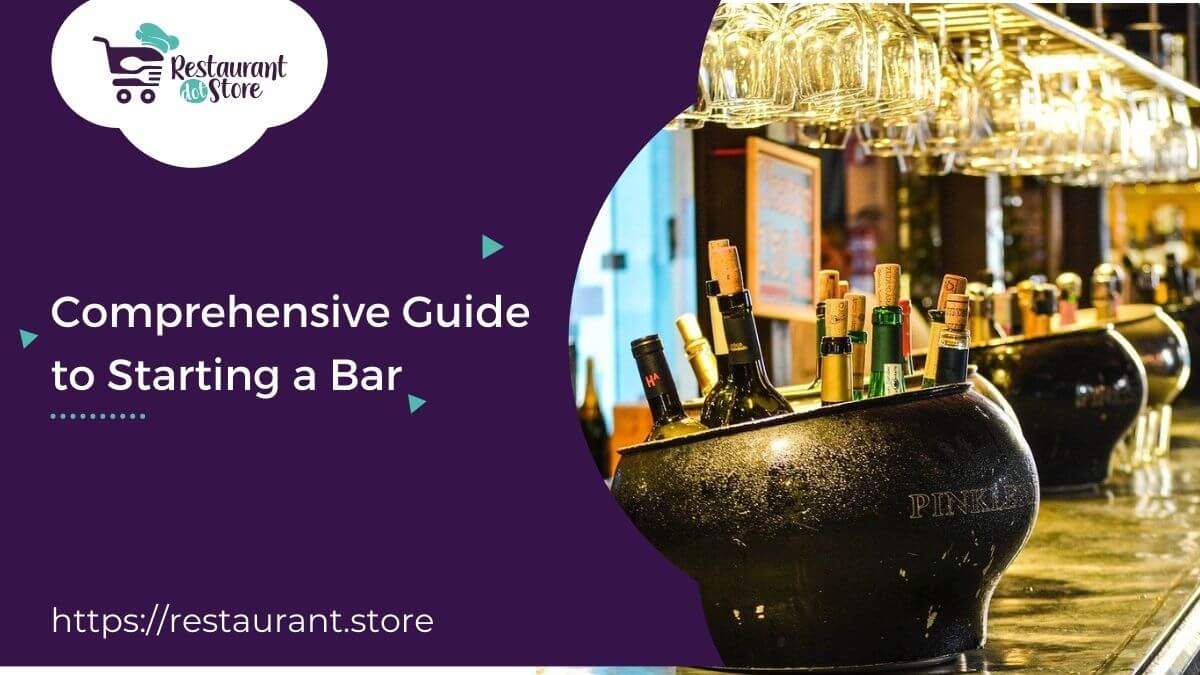 So you've decided you want to open a bar? You have an innate fascination with talking to people, you love seeing drinks being mixed and you don't feel like the 9-to-5 life is your cup of tea, well then you've come to the right place.
To give your bar dream the best chance of success, we've compiled together this advanced blog that will enlist everything and offers answers to your question- how to open a bar? Are you prepared to get one step closer to owning your dream bar business? Then let's get started!
Step-By-Step Guide on Starting a Bar
1. Decide on what type of bar business you want to open
The first most essential step when deciding to open a bar business is deciding on what type of bar you'd like to operate. There are many different types, they are as follows:
A. Brew Pub or a Beer Bar
Beer bars provide a wide range of options and serve appetizers and snacks on their menu. They also offer their own draft beer as well as bottled selections as well.
Advantages: When it comes to starting a beer bar, the owner always has the ability to control how many products are produced. You also spend less money and reduce efforts in obtaining a licence.
Another great benefit is that men and even young adults drink more beer than any other alcoholic beverage, thus, you'll always have customers.
B. Speciality Bars
This type of bar revolves around a certain theme or specific types of drinks, for example- wine, whiskey, martini, etc. Although, they still have a variety of products. For instance, whiskey bars, other than different sorts of whiskeys, also offer mixes or cocktails.
The cost of a speciality bar depends on the type of product you provide as well as the location.
C. Clubs
When it comes to clubs, it depends on the size you want. For example- do you want a small lounge for a cocktail bar with a DJ on one corner, a medium-sized venue to have live music (bands) in the evening or a large-sized dance floor where parties can be carried out till dawn?
No matter the size you choose, the success of clubs depend on the hip buzz and trendiness around them, making marketing absolutely vital.
2. Conceptualise
Since you've decided on what type of bar you'd like to open, now it's time to jump to the next step- the concept.
Having a clear vision for your bar business comes down to the tiniest of details.
Here are some things to remember when deciding on the concept
The concept you choose should be ideal for both your market as well as the location. If you already have a location in mind, then make sure you try to familiarize yourself with what the demographic loves there.
Don't limit yourself to explore even the wildest ideas.
Do thorough research and visit similar bar businesses near your area. Have a close look at their concepts, analyze the things they lack and what you can do differently. Also, understand who their customers are and how to attract them to your bar business.
3. Determine a location
Location matters more than you think. Here are some things to contemplate when choosing the right location for your bar business.
A. Style
Do you want to go casual, formal or sophisticated/elegant. This will ascertain the type of customers you want to attract.
B. Demographics
In a city, there are different areas. These areas have people with different preferences and thinking. If you are looking to attract young, college-going students, opening a bar near a university is sensible. But if you are looking to appeal to high-class customers, then starting a bar near rich localities is the right way to go!
C. Accessibility
Aspects like is the location easy to find for someone new to the city? Is there enough parking? Keep these in mind when choosing a location for your bar business.
D. Cost of Rent and Amenities: Will you be able to afford these costs in sales considering the kind of customers you're going to draw in?
4. Devise a business plan for your bar
You know the type of bar you want to open and the concept, now you need to get straight to the most complicated aspects- the business structure when starting a bar.
You need to make business decisions such as
Do you want to buy an existing bar business
Do you want to build a brand new one?
Should you remodel an existing bar?
Will you buy a franchisee?
Is your plan to be a sole proprietor, partnership, LLC or corporation?
No matter the type of bar business structure you have chosen, ensure that you have taken the advice of your accountant or lawyer to score the best deal and type of ownership.
Here are some other essential aspects to consider when starting a bar business plan:
Outlining of the concepts in detail
Including a profit and loss statement to showcase the bar's profitability
Highlighting the advantages of the location of the bar.
A detailed rundown of the staff and their salaries
Define the possible risks involved in starting a bar.
Acquiring the trademark of your bar's name and logo.
5. Obtain a License
To avoid any legal trouble when starting a bar, the most critical thing is licensing.
In order to serve alcohol, food or even play music in your bar, licensing is very necessary. These cost money and time and require the help of a professional as some are easy to obtain, while others are more complex.
Not acquiring a license could land one in big trouble and the lack of one can cause your bar to shut down.
6. Hire the right staff
Your bar business will not flourish if you don't have the right staff. Whether you want to hire based on skill or personality, that is totally up to you, but ensure you hire candidates that represent your bar in the best light.
Once you've made up your mind about the qualities you're looking for, it's time to get an idea of the different job roles you need to hire for.
These are:
Bar Manager
Bartender
Cocktail server
Barback
Bouncer
7. Plan the menu
The next important step is planning on what drinks or foods you will serve in your bar.
This step should be undertaken before deciding the suppliers and stocking up on equipment, as this will give you a clear idea of the equipment you need when starting a bar as well as to avoid any further costs.
Remember, at this point, you don't need to have an exact menu but at least a general idea of the type of foods you will serve. For instance: only appetizers or sandwiches or main course meals as well? Also, ensure your menu emulates your bar's concept. The same applies when choosing drinks.
8. Determine the most reliable suppliers
This is the point where you start searching for reliable suppliers. In order to do this perfectly, here are a few questions to ponder on:
What brands does the supplier offer and is it a good fit for your bar's concept?
How much is the supplier offering the service for? Are there any discounts or possibilities of negotiations?
Is there any minimum cap on the purchase?
How do they classify order processing?
Do they make deliveries? How often?
Do they have the capacity to meet your demand?
What circumstances bring about a change in prices?
What happens if the materials/products don't arrive?
Are the supplies of high-quality?
What processes do they have in place to maintain consistency and quality?
9. Choose the proper equipment
After having a general idea of your menu and suppliers, it's time to stock up on the right equipment.
Before doing this, here are a few questions you need to ask yourself:
Does it improve the productivity or efficiency of the bar's operations?
Does it meet your expectations when it comes to quality?
Is there enough space to fit the equipment?
Is it an ideal match for the concept decided?
Is it easy and safe to use or operate?
How convenient is it to maintain or install the equipment?
Is the equipment easy to clean?
Check out the most essential equipment you will need.
10. Install a POS system
Finally, it is highly imperative that you put money into an efficient POS system before starting a bar. The point-of-sales system will not only safeguard you from theft, but will also speed up your work behind the bar as well as in the kitchen.
Whether you run a high-volume bar or a local pub, there are numerous POS systems that are customized for your setup. A smart POS system is critical for the success of your bar business from the start!
Conclusion
If all the above steps are followed intently, your bar business will be ready to open its door to the public and become the place that everyone knows and loves in no time!
At Restaurant.Store, we are committed to offering the best equipment that helps businesses like yours increase the operational efficiency of your kitchens!
Book today!
Moiz May 10, 2021
Features
Drop us message and we'll get back to you.