5 Best Tips for Kitchen Grease Trap Maintenance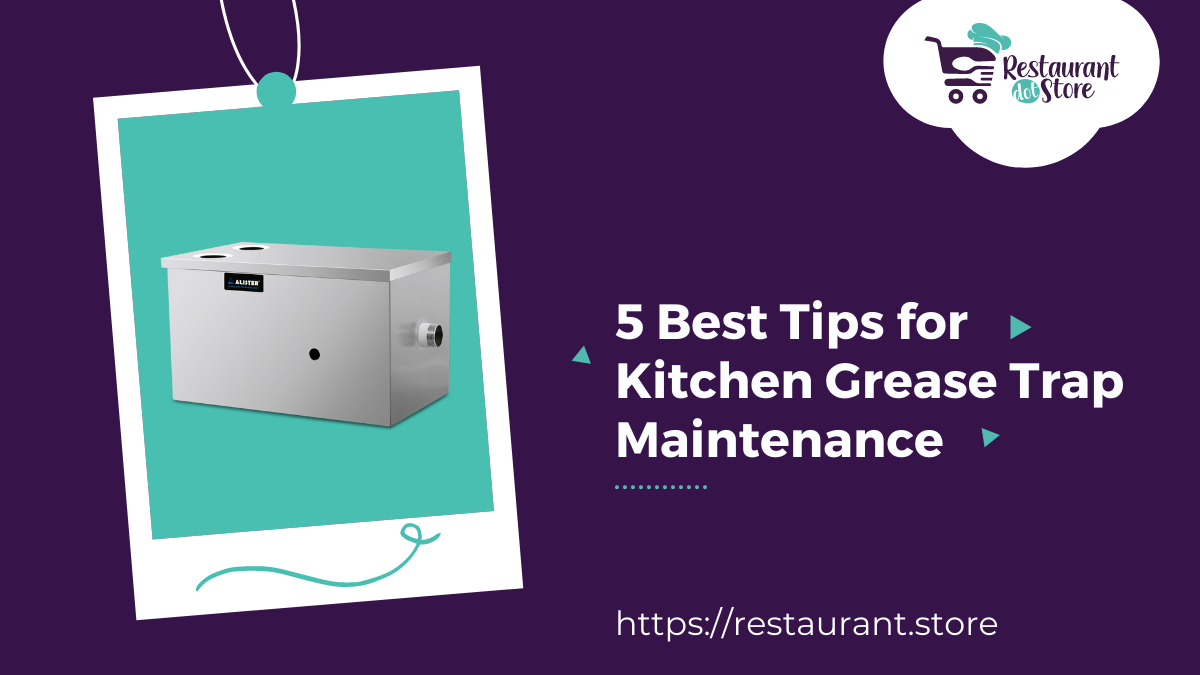 Do you run a restaurant or a cafe or a bar? Along with running the restaurant successfully, managing your customers, offering delicious food, and making sure that the revenue flow continues strong, you must be looking for solutions to maintain the grease trap in your commercial kitchen.
Almost every food item prepared in a restaurant requires oil or butter. These items create serious grease issues such as greasy tiles, greasy sealing, greasy utensils, etc. If you are looking for a solution to overcome these greasy stains all over your restaurant kitchen, you can check out our blog. The biggest commercial kitchen maintenance problem with grease is that it gets choked up in the sink and clogs the water.
Another major issue with greasy water supplied in the sewer collection lines making the drainage water more dirty and difficult to clean. Also, the grease from your commercial kitchen can cause an overflow of water from the collection system resulting in damaging the property. And finally, the most vital reason why you must have a grease trap for restaurant kitchens is that it has been made compulsory by law for environmental welfare.
In this blog, we are going to share some amazing tips to maintain the commercial kitchen grease traps and keep your kitchen, sink, as well as environment clean. Before you start exploring the tips, let us tell you a fun fact that all the tips are offered by our experts at Restaurant.Store.
5 Best Tips for Kitchen Grease Trap Maintenance
1. Get a stainless steel grease trap for the restaurant
The material of commercial kitchen grease traps is an important factor when you choose one for your restaurant. The best material considered for kitchen grease traps is Stainless Steel. The stainless steel equipment has various features like anti-rust, anti-corrosion, non-deformation, long service life, etc. You can get it from renowned commercial kitchen equipment stores like Restaurant.Store.
2. Clean the vessels before washing
Make sure you scrape all the food from plates and other utensils before putting them in the sink for washing. It is important to collect and dump all the food pieces and gravy in garbage bags to avoid clogging the sink. You can use a rubber spatula or scrape with your hands.
3. Screens under your sink
You can purchase and install steel screens under your sink to prevent food pieces and grease from entering the sewer collection lines and contaminating local streams and rivers. You must be thinking that if you are going to scrape all the food from utensils, why do you need a screen under your sink? Think of it this way, you are working in rush & peak hours, your staff does not get much time, there might be some pieces of food or gravy getting mixed up in the sink. For such cases, you can always benefit from screens.
4. Keep checking the trap every week
Some parts of commercial kitchens require everyday cleaning like utensils and some parts require weekly while some require monthly cleaning. depending on the size of your kitchen grease trap, you can decide when to clean the equipment. If you are using a SS Grease Trap Big, you can plan to clean it once every two weeks.
5. Water temperature is important
There is a big myth that adding extreme hot water into the sink allows it to clean and increases the durability of grease traps. Restaurateurs and staff must understand that adding hot water allows grease to meltdown and get mixed with wastewater. Hence, we recommend adding cold water while washing the vessels.
Conclusion
Now that you know how to maintain the commercial kitchen grease trap machine, you can improve the durability of your machine and avoid multiple problems. To purchase commercial grease traps, you can simply check out Restaurant.Store. This online store has a wide variety of commercial kitchen equipment along with amazing services like Expert Consultation, Kitchen Layout Design, etc. Click here to know more.
Moiz December 17, 2021
Features
Drop us message and we'll get back to you.