Why Buy Kitchen Equipment From Restaurant.Store Rather Than Traditional Dealership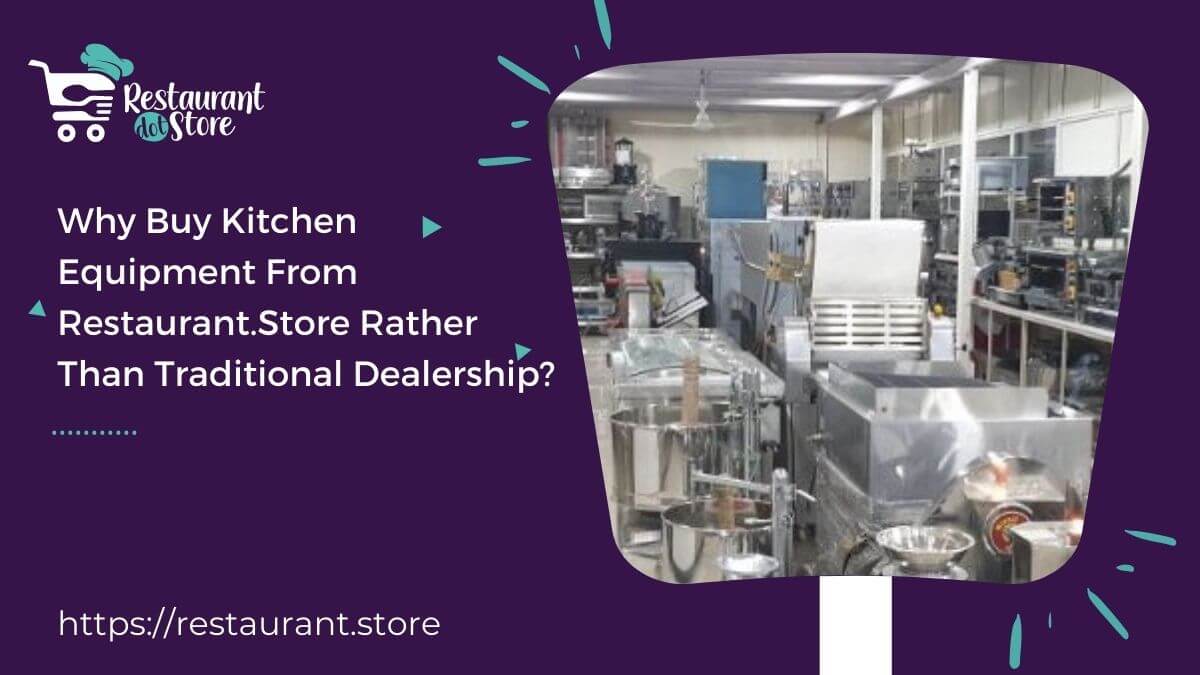 Kitchen equipment plays a vital role in making your cooking experience much more comforting. With growing technology in every field, there are many smart commercial kitchen equipment performing two or more tasks at the same time. Since hundreds of customers visit hotels and restaurants every day, restaurant kitchens are equipped to prepare bulk orders in one go and in a short time.
But the major concern here is, where to buy this equipment from. There are two options; bricks and mortar and online stores. The importance of online stores is well understood in this pandemic. Where people are relying on online stores and avoiding stepping out for any kind of shopping, there are many online stores selling commercial kitchen equipment as well. Restaurant.Store is one of India's most renowned commercial kitchen equipment selling online stores. In this blog, we are going to share some important points explaining why Restaurant.Store is the best option to buy commercial kitchen equipment.
Here's Why You Need To Buy Commercial Kitchen Equipment From Restaurant.Store
Quality Products:
An online store committed to quality. We at Restaurant.Store, make sure that all our products are manufactured as per quality standards to fulfill end user's requirements. We understand how vital it is to have kitchen equipment performing well under severe conditions like high demand hours, bulk preparations, etc. Hence, we deliver good quality products.
Trusted Brands:
Another important factor to consider Restaurant.Store is that we offer only trusted brands. We sell brands like Alister, Whirlpool, Celfrost, etc. All the brands we sell are in the market for decades and have generated trust among end-users. As mentioned already, we deliver quality products and hence we do not sell brands with poor ratings.
Warranty & Guarantee:
Buying heavy kitchen equipment and appliances involves a huge cost and hence we make sure to serve the best to our customers. Every commercial kitchen equipment is offered by Restaurant.Store comes with warranty & guarantee cards.
Variety of Options:
Willing to buy an oven for your commercial bakery? We have more than 10 options for gas and electric commercial ovens. Similarly for all equipment, we have a variety of products from different brands and have different specifications. According to users' requirements, they can select any feasible option considering their needs.
Saves Time:
The major reason why consumers prefer bricks-and-mortar stores is that they get to select and purchase equipment real quick. Restaurant.Store e-commerce website is smartly designed to help users complete the purchase journey in less time with complete convenience. Since there are multiple options for each equipment category and subcategory available in one place, users can simply go through all the details, finalize, and process the purchase in one go.
You Need Not Carry Heavy Equipment Way To Your Hotel:
One of the best advantages of purchasing restaurant kitchen equipment from online stores is 'home delivery. Most of the physical stores deliver only heavy equipment like refrigerators, coolers, chimneys, etc. But while buying lightweight equipment such as mixer grinders, sandwich toasters, small size ovens, and beverage dispensers, home deliveries are not available. Restaurant.Store delivers small to heavy kitchen equipment at your doorstep that too in very little time.
Design Your Kitchen With Experts:
So we are not here just to sell you something! Our fundamental objective is to bring the Indian commercial kitchen industry to the top. Hence, our services also include consulting, designing, and setting up commercial kitchens to enhance functionality, comfort, and innovation. Our industry experts help Restaurateurs arrange their commercial kitchens like a pro!
Annual Maintenance Contract:
We not only help you set up your dream kitchen, sell commercial kitchen equipment, but also offer an annual maintenance contract (AMC). Our dedicated team of highly qualified and skilled professionals monitors the performance of kitchen equipment and resolves issues if any.
Customer Support:
Our customer support team takes care of every issue raised and we have a dedicated team to resolve customer problems.
Conclusion
Why spend the whole day buying just a refrigerator when you can buy all your kitchen equipment in one go at Restaurant.Store? Considering all the above-mentioned advantages, we are sure you now wish to buy your next equipment from us. Click here to get started.
Moiz May 24, 2021
Features
Drop us message and we'll get back to you.