Start an Ice Cream Parlor in India: 6 Easy Steps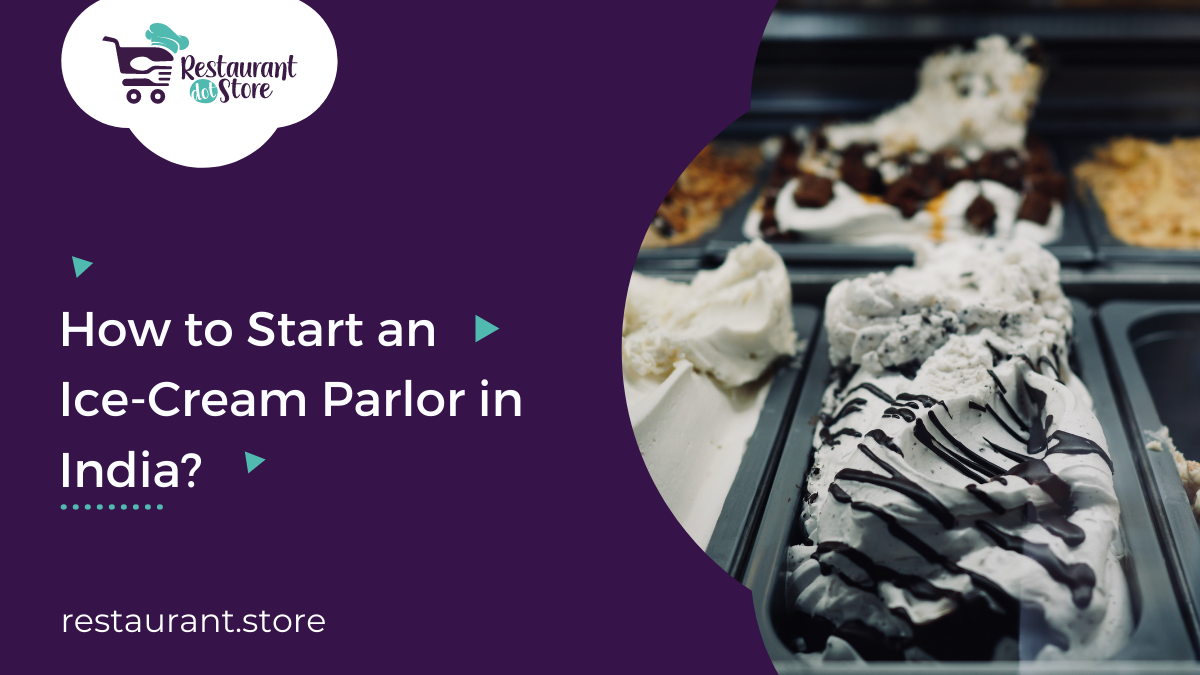 Desserts are the most favorite part of all Indians and when it comes to ice cream, it is something we all love. Be it a Kulfi, a Sundae, Iced Drinks, Hot Brownie With Ice Cream, or just the regular Ice-Cream, no one in India says no to ice cream.
The food industry in India has never seen a downfall since food is an important part of our culture. And the same applies to desserts. If you are thinking of entering into a food business in India, the ice cream parlor business is the perfect idea to start with.
Let's check out what all is needed to start, run, and conquer the ice cream business in India. In this blog, we are going to answer every obvious question you have in your mind regarding the ice cream shop business plan.
Step by Step Guide to Start an Ice Cream Parlor Business in India
1. Format of Ice Cream Business
Do you wish to start a small stall where you can offer takeaway ice creams? Or do you wish to start a lavish ice cream parlor with a big sitting area? It is recommended that you ask yourself these questions. A lot of aspects are dependent on the format of the ice cream parlor such as the menu, types of equipment, and most importantly the capital budget!
According to your estimated budget, you can decide which one you wish to start with. As per a report published by FICCI, the ice cream industry is expected to grow nearly 1 Billion USD by 2022. This stat shows that Indians are spending more on luxury cuisine and are open to trying new varieties of food & desserts. That is the reason both tiny ice cream parlors and ice cream cafes are experiencing a great upscale.
2. Location
Having the right location is extremely important especially for the food & dessert business in India. A place where your customers can easily reach, prospects can easily notice your business, and has a regular crowd flowing. 
The cost aspect is extremely crucial while selecting the right location. Areas around colleges and IT parks are a great choice but require a lot of investment. Usually, a carpet area of 400-500 SqFt is required to run a fully functional ice cream parlor in India. If you are willing to start a large lavish ice cream parlor, you can also search for 700-800 SqFt areas. The rent of such places in Indian cities depends on the area you are starting your business. But you can expect 30,000 INR to 1,00,000 INR per month rent.
3. License
Here is a list of licenses required for starting an ice cream business in India. 
FSSAI- Ensuring the quality of food qualifies standards set by FSSAI. 

Fire Safety License- You will need to install fire safety devices such as fire extinguishers and a layout plan that allows customers to run out easily in case of an emergency.

Health License- Ensures that the parlor is run within compliance with the health department.

Other Licenses- Shop Establishment License, Local Municipal Authority License, GST Registration, etc.
The average cost required for all these licenses ranges from INR 50,000 to INR 70,000. The cost of the license is something that cannot be cut down since the Indian Government has strict policies regarding food licenses. We recommend you get all the licenses before starting an ice cream business in India to avoid heavy penalties & fines.
4. Equipment
This part is a bit tricky! Since we all are pretty familiar with many restaurant equipment as their small versions are available at our homes. But when we talk about ice cream parlor equipment, it is vital for you to study and learn what all equipment is needed, what are the costs, where can you buy this equipment from, etc.
Here's a list of ice cream parlor equipment:
While buying commercial equipment for the ice parlor business, consider the following tips:
Check the capacity of the equipment

Brand & quality

Shop from an online store to get a wide array of options

Check for warranty & guarantee

Consider the sizes of equipment as per the parlor layout
5. Resources
Ice cream preparation is not as easy as swallowing a scoop of ice cream! The preparation of every type of ice cream differs. Depending on the flavor of ice cream, the consistency required, the ingredients, etc, the method of preparation varies.
To run an ice cream parlor business successfully, we recommend you hire professionals for preparing ice cream and to serve as well. On average you can hire a chef, 1 helper, 2 waiters for large-scale parlors or just a chef is enough if you are planning to start a tiny parlor.
6. Branding & Marketing
Every ice cream shop business plan is incomplete without an apt branding & marketing strategy ready to implement. To start with, you need a name, a logo, a tagline that attracts customers! The name, logo, & tagline should indicate the nature of your business and encourage customers to check out your ice cream shop.
For marketing, you can opt for physical & local marketing, or even opt for online marketing. You can distribute pamphlets, rent hoardings, offer discounts, offer getaways, etc. You can also start social media marketing by posting regular & engaging posts where you can interact with your customers and ask them for feedback and get their organic reviews.
Conclusion
All the above steps are drafted by food industry experts at Restaurant.Store. Restaurant.Store is an online shop where you can get all the commercial kitchen equipment for any kind of business right from the restaurant, cafe, bakery, ice cream parlor, bar, fast food restaurant, cloud kitchen, or even food truck. 
For any commercial kitchen equipment, you can simply land on Restaurant.Store and start exploring a wide range of branded equipment and select the best one for your business. At Restaurant.Store, we offer equipment along with expert consultation, assistance in kitchen layout designing, AMC services, etc. Click here to start shopping today.
Moiz November 12, 2021
Features
Drop us message and we'll get back to you.