Start a Home Baking Business in India: 8 Powerful Steps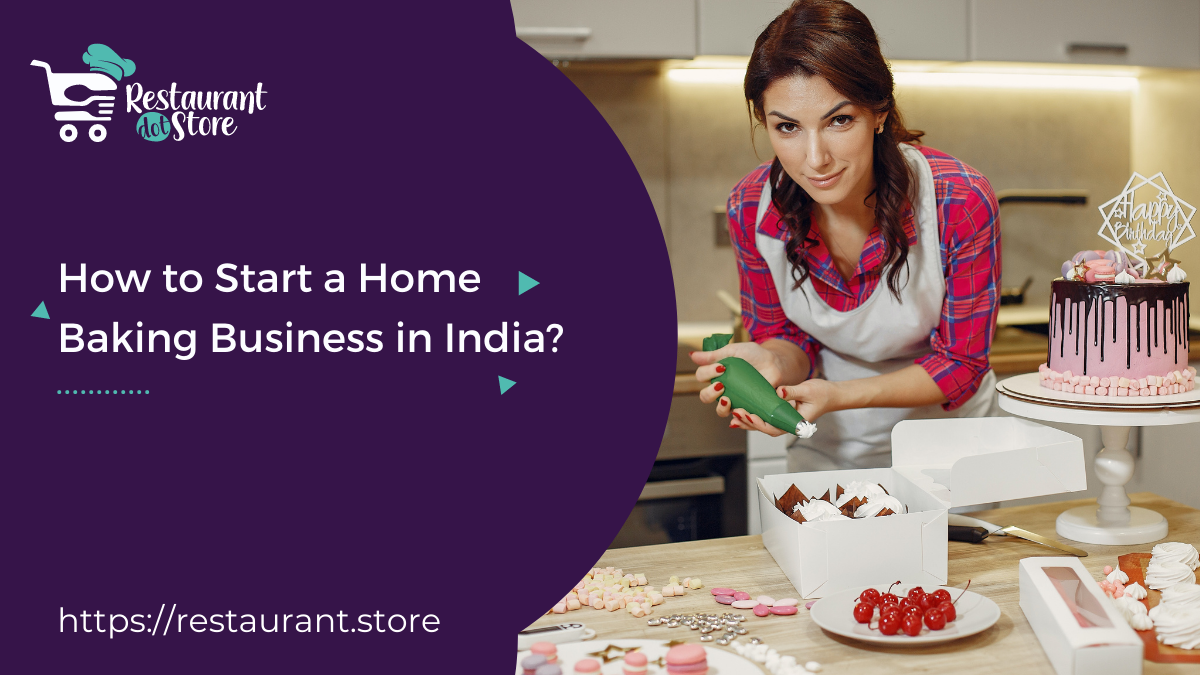 Have you ever passed by a bakery and felt enchanted by the mouth-watering fragrance? Bakery items are everybody's favorite! That's why a home baking business is a great business idea right now!
If you also have a:
Love for baking
Love spreading joy with your amazing baking skills
And wish to convert your hobby into a business then this blog is for you.

,then this blog is for you!
We are going to offer some vital tips on how to start a home baking business in India. Let's get started.
Tips for Starting a Home Baking Business in India
1. Manage The Menu:
So what are you good at? Cakes, cookies, cupcakes, loaves of bread, muffins, and many more are the items we think of when we say baked food. It is very important to have a variety of products when you start your business. But at the same time, it's important to have mastered baking those products.
Make sure you add items in the menu that you are well experienced in.
Keep in mind that customers keep asking for customized items, especially from a home baking business, and hence, there is always a scope for changes in your menu.
2. Market analysis:
How well do you know your customers? If you are going to start a home baking business, you must study the market you are going to enter. Who is going to be the target audience, what are their preferences in terms of baked food, location, work, etc needs to be considered.
For instance, if you are a metro city home baker, you can expect orders that are highly customized and difficult. If you are targeting college students, then you can expect a high demand for uncommon designs and unique flavors. Also, depending on the target audience, you can decide on pricing for your products.
Few questions you must know the answers to :
What season of the year has maximum demand for cakes?
What are the competitors doing?
What new baking skills entered the market?
3. Cost estimation:
This is the most important stage for any home baking business in India. Since you are not planning to start any commercial business on a big scale, the cost should be less than that of professional bakeries. While estimating the cost, there are various factors to consider; the cost of appliances, cost of ingredients, packaging cost, the salary of your helper (if any), electricity bill, delivery cost, etc. Depending on the number of orders you get, you can estimate your monthly cost and plan accordingly.
4. License:
The next important step is to get all the licenses. FSSAI, GST, Health License Police Eating House License, or Fire License; all these licenses are necessary to start a home baking business in India. These licenses allow users to produce and sell products from home as a commercial business. It also indicates that the home bakers are maintaining all the safety and hygiene standards. You can also refer to this blog for more information.
5. Baking appliances:
While listing out the ingredients and other materials required for your business, if you have not considered professional baking appliances, then you are doing it wrong. Every home baking business from home must have a high-quality oven, microwave, stand mixer, mixer grinder, refrigerator, etc.
It is crucial to select the best brands and authorized dealers. Restaurant.Store is an online store that customizes only kitchen appliances for home kitchens as well as hotels, restaurants, cafes, etc. You can get amazing deals and the finest appliances for your new venture.
6. Branding:
Branding is highly important and recommended for every business, no matter how small or large scale the business is. The same is the case for a home baking business! Branding helps businesses get a unique identity amongst the competition and helps customers connect with the brand easily.
To start with, you need an attractive brand logo. Make sure your brand's logo matches with your business sector and is eye-pleasing. Then you require a catchy tag line that will help customers remember your brand.
Make sure you are printing your brand name, logo, and tag line on the packaging boxes and bags. Not to forget, always use paper products and say no to plastic. Another cool thing you can do with your packaging is to print a QR code of your social media profiles. This will help customers visit your social media pages in no time and check out your latest posts.
7. Marketing and promotion:
With everything being available online, online advertising is the best and most feasible way of marketing. You can use social media platforms like Instagram, Facebook, to increase brand awareness for your home baking business. You can also forward sales pitch messages to your friends and families as a marketing campaign.
If this fits in your budget, you can also opt for paid ads and sponsored posts on social media. Also, exciting offers on your products can bring in more customers during festive times.
8. What's new?
There are hundreds of bakers in every city of India. To stand out and firm in this competitive market, you must deliver something new, unique, and delightful. For instance, bakers delivering whole wheat cakes of jaggery cookies stand a better chance of becoming successful in less time.
Conclusion
Now that you have all the tips to start a home baking business from home in India, you are all set to start and rule the market. Let us know in our comment section what more tips can be added here. Happy baking!
Moiz February 22, 2021
Features
Drop us message and we'll get back to you.