5 Genius Restaurant Technology Solutions to help you in 2023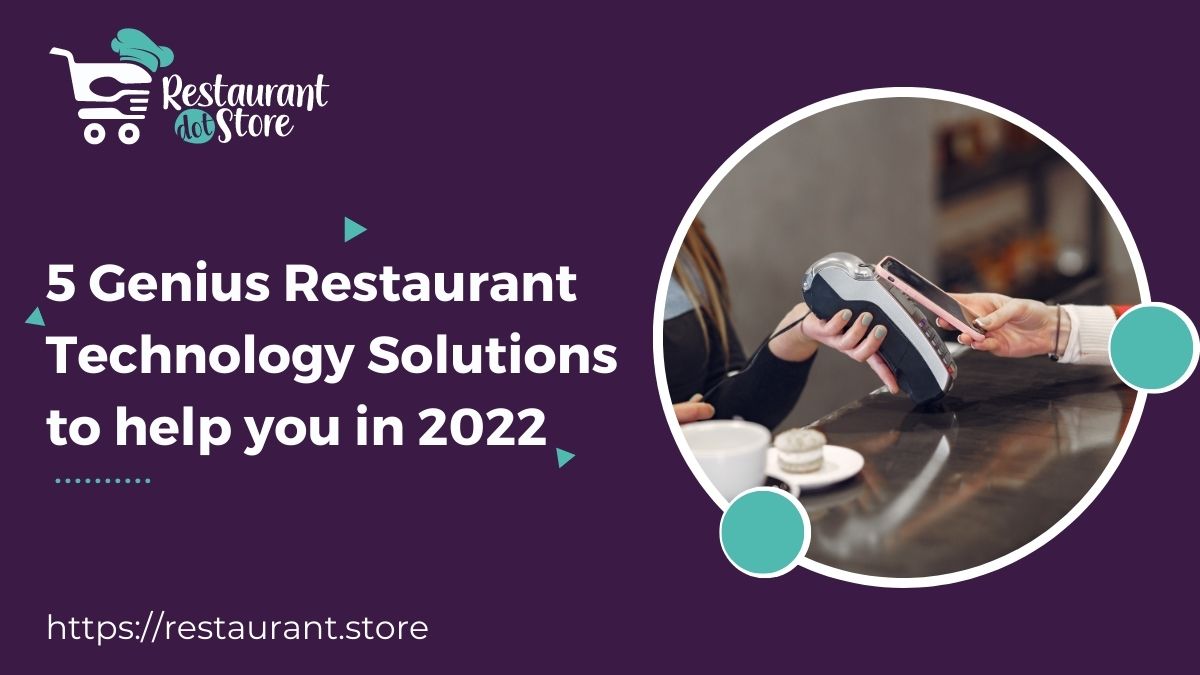 The Covid-19 pandemic brought a lot of changes to our world- technological and otherwise. One of the biggest industries hit by the pandemic was the food service and restaurant industry. But, people found a way to adapt and move forward in these times. During and after the pandemic, the industry managed to come up with many innovative technology solutions that could help them grow despite Covid-19 hampering their business.
These clever yet creative technology solutions used in restaurants not only developed customers' restaurant dining experience but also made it easy and convenient, especially in the newfound post-pandemic situation. Today, with most of the world opening up, these solutions are assisting restaurants tremendously, as well as making customers happy! Here are 5 methods you can adapt to your restaurant for the way forward-
5 Clever Technology solutions used in restaurants that will help you!
1. QR Codes
Social distancing norms gave birth to contactless ways to communicate during the pandemic. Utilizing online methods in ordering and paying is the newest restaurants technology solutions are adapting. You can find QR codes on tables and walls in restaurants, and customers can easily scan these to gain access to the menu. QR codes are also gateways for online payment options.
2. Self-Ordering and Online Delivery Apps
If anything, the pandemic has reinforced its food delivery service! The delivery service that exists today will only continue to grow, given how conveniently people can eat what they want now, from wherever they want! You can take a part in this experience of freedom by-
Developing a Restaurant app for delivery services
Let your customers order from your restaurant's website
3. Automotive Systems
With the expansion of the industry, many restaurants are moving towards automotive systems. Today, a big existing automotive system is the digital drive-through. For example, McDonald's has digital drive-thru lanes, through which you can order and pay online in the first lane, and collect your food in the second lane!
Another technology solution is integrating an app for the back-end operations of your restaurant.
This app can help manage and operate back-of-the-stage operations of your restaurant more smoother, and eventually lessen preparation and delivery time. It can also offer real-time tracking to your customers, and let them know their order updates such as ETA.
4. Data Analytics
Going online with many restaurant operations means you get a huge amount of data about your customer's demographics and ordering patterns when using restaurant technology solutions. While you probably know the most popular items on your menu, big data could include many other analyses about your restaurant you probably didn't know, and help you build better marketing and business strategies.
5. Smart Kitchens
Although preparing a dish requires a human touch, many restaurants are opting for machine learning and artificial intelligence in their kitchens. These machines don't do everything- but rather help in smaller tasks, prepare common ingredients and assist chefs and cooks. In the future when they are fully developed, maybe kitchen robots can take over smaller and simpler tasks like seasoning food, or churning a sauce thoroughly!
Another solution that exists in a smart kitchen is digital kitchen boards.
The board acts as a point of reference between the chefs and the waiter. Instead of using pen-and-paper to determine the status of each order, it can be viewed by everyone in the restaurant- right from when it is placed to when it is served!
Conclusion
Without a doubt, new emerging technology solutions have made the restaurant experience much more convenient. They have also helped in boosting businesses! But, apart from these solutions, your restaurant's success also majorly depends on the basics- an unforgettable menu and great customer service. Restaurant.Store has all the latest Commercial kitchen equipment that you can install in your kitchen so that you can keep developing, serving, and delivering!
Moiz July 11, 2022
Features
Drop us message and we'll get back to you.