Restaurant Standard Operating Procedures Guide- 5 Effective Steps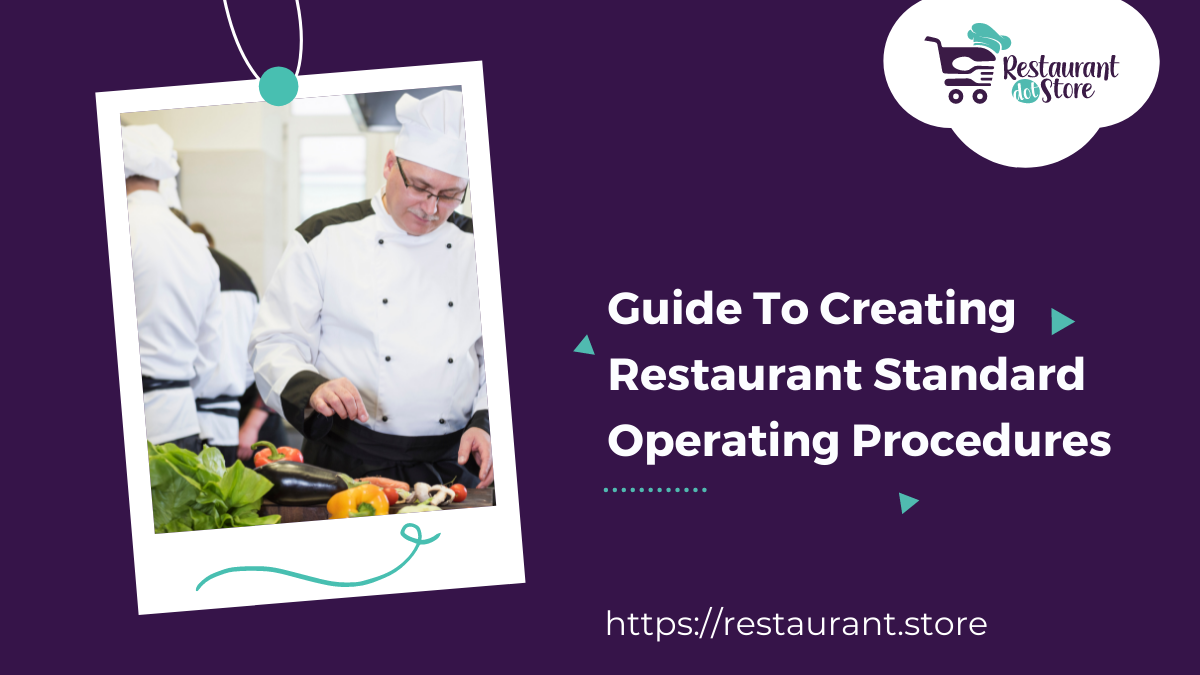 Any standard operating Procedures (SOP) are beneficial for streamlining multiple tasks and bringing ease to every operation. The restaurant business in India is one of the most promising businesses and has a great scope for success. Hence, there is a lot of competition in the restaurant industry and to outsmart the competition, having a standard operating procedure can help.
The procedure helps in multiple ways such as simplifying regulatory compliances, streamlining staff onboarding, enhancing staff communication, improving customer service, optimizing asset management, and ensuring cleanliness.
Restaurant.Store has curated a simplified guide to creating your Restaurant SOPs. You can have SOPs for every department to optimize that department's work. So let's get started.
Guide To Creating Restaurant Standard Operating Procedures (SOP)
1. Hygiene Standard Operating Procedures(SOP)
In this time of the pandemic, it is extremely important to take care of hygiene. Most of the customers entering restaurants pay special attention to cleanliness & tidiness. To make them feel at home, you can follow this SOP
Washing hands frequently
Maintain cleanliness in the kitchen & all over the restaurant
Cleaning clothes/uniforms regularly
Weekly cleaning of internal parts of equipment like ovens & restaurants
2. Food-related Standard Operating Procedures(SOP)
There can be a standard procedure for food preparation. It can include
Purchasing only fresh & quality vegetables, meat, eggs, and raw material.
To check the expiry dates and allergy-related instructions
To keep the raw materials ready for whole-day food preparation
Storing the food as per standard guidelines
Recycling waste food
To report damaged or bad goods
To prepare food as per the standard process set by your chef
3. Standard Operating Procedures(SOP) for serving
When a customer enters your restaurant and places an order, the staff prepares it in time, and later it is served to the customer. But do you simply put the food in a serving bowl and send it to the customer? No right? So let's see what can be considered in the Standard Operating Procedure (SOP) of food serving
Decorating the food in a presentable way
Adding relevant toppings to the dishes
Using serving utensils
Placing it in an appropriate order on the serving trolley
Asking or informing before serving to each customer
Setting a standard quantity to serve to each customer
4. Standard Operating Procedures(SOP) for customer service
Have you paid attention to customer reviews for different restaurants? Most of the reviews mention a lot about customer service. How the staff treats customers is an important factor when it comes to converting customers into loyal customers. Check out this SOP for customer service
Greeting customers when they arrive
Helping them with parking
Quick table booking
Taking them to the waiting area if needed
Helping them with menu selection
Serving food
Quick billing
Greeting while they leave
5. Standard Operating Procedures(SOP) for safety
The safety of your restaurant, staff, & customers should be on priority. Since every restaurant kitchen has a big number of commercial equipment (gas & electric), it is important to pay attention to safety measures
Prohibiting usage of mobile phones in the kitchen
Having fire extinguishers
Having fire exit
Automatic water sprinkler
Smart locking system
Conclusion
Following the above Standard operating procedures for Restaurants can help restaurateurs in removing employee guesswork about tasks, improving productivity, increasing teamwork, and most importantly; satisfying customers. Do you know what else you need to increase a restaurant's productivity? The answer is quality equipment. To get branded & quality equipment online, you can check out Restaurant.Store. You will find a huge variety of quality commercial kitchen equipment suitable for every type of food business. No matter if you are a home baker or own a fancy resto-bar, you can get every type of equipment at Restaurant.Store.
Moiz March 10, 2022
Features
Drop us message and we'll get back to you.