Purchasing Commercial Kitchen Equipment Online? 8 Big Questions to Ask!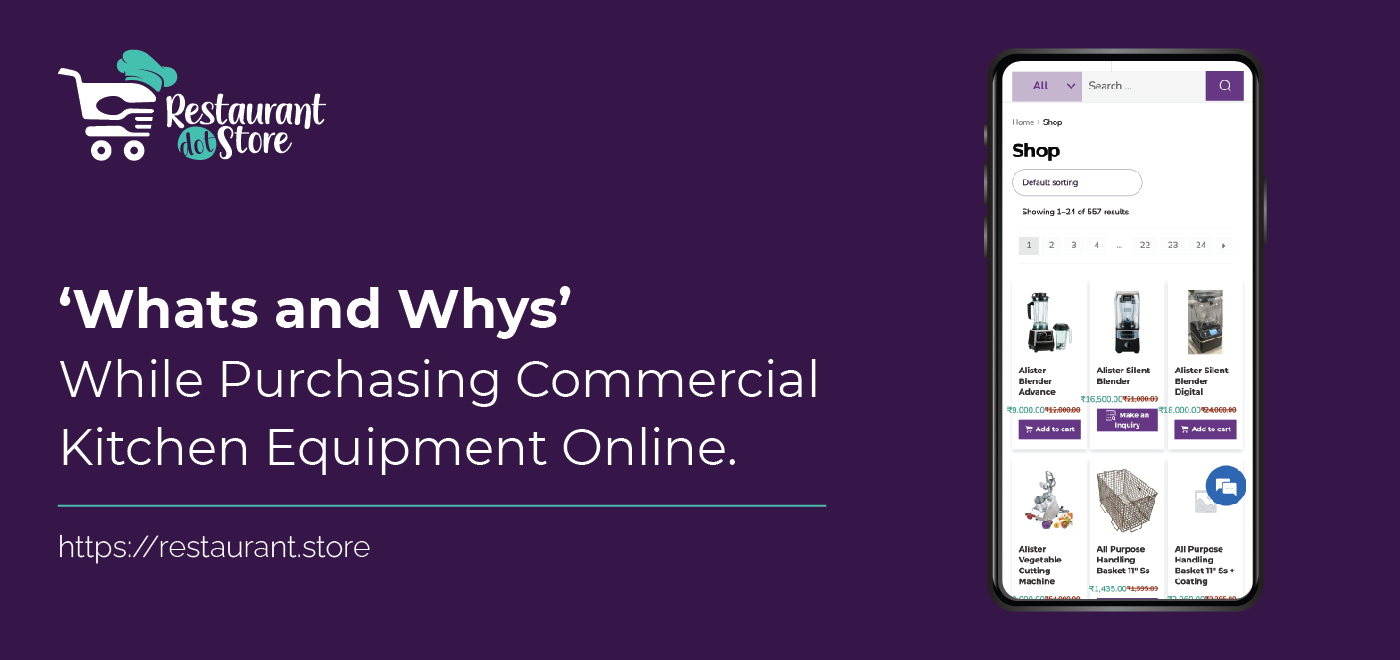 Starting a new restaurant business? Or planning to open your own tiny cafe? There are various ways you can smartly manage the initial tasks and also save some bucks. Buying commercial kitchen equipment online saves cost, effort, and delivers convenience. 
You can simply visit the best websites for commercial kitchen equipment online and explore their offerings as well as services. Since there are a bunch of stores offering restaurant equipment online, buyers can select the best one by asking certain questions to the stores.
8 Questions You Must Ask Before Purchasing Commercial Kitchen Equipment Online:
1. Do you provide equipment for small-scale restaurants and cafes?
Being into commercial kitchen equipment selling, make sure the online store offers equipment and appliances for small-scale businesses since the tiny restaurants, commercial kitchens, and cafes have limited space and capacity for equipment.Let's assume that you run a tiny cafe in a small city and are looking for compact equipment. You must look for online stores having a wide range of equipment available in different sizes & capacities.
2. Delivery process and charges.
A commercial refrigerator weighs around 130kg to 160kg on average. Delivering such huge equipment is a tedious task and hence it is vital for businesses to ask about the delivery procedures and charges as well. Especially, if you are running a business in a small city where commuting is a problem, asking about delivery & shipping is recommended.
3. Does the store offer equipment packages?
Setting up new food businesses involves a long list of equipment shopping. We recommend you shop from the stores that offer equipment packages and also deliver huge discounts on package shopping. Wonder why you must get equipment packages? We have the answer here- Why do restaurants prefer buying equipment packages?
Buying equipment in packages allows businesses to save cost, time, effort, and also to get customized packages as per their unique needs. The best part about equipment packages is that you get to have all equipment in one place.
4. Are the packages customizable?
Every business requires different equipment and has unique requirements. If you are getting equipment packages, make sure if the packages are customizable and allow you to select the sizes, capacities, and brands of the equipment.
5. Delivery to small and remote places.
This is one of the most important questions you must ask the online store. Restaurants, cafes, bakeries, and even home bakers from small cities while ordering equipment online must confirm the delivery range of the store.
6. What is the warranty period for restaurant equipment online?
A good restaurant equipment online store offers at least a 1-year warranty on each product and for branded products, the companies offer a certain warranty period that varies from brand to brand. Since the restaurant equipment operates in a heavy workload and is operating almost the whole day, the products are designed to have better durability than regular home kitchen equipment. Hence, it is important to check the period of warranty with the brands as well as online stores.
7. Does the shop offer AMC service?
The commercial kitchen supplies online must deliver timely AMC services where their engineers look after the conditions of equipment and make sure your equipment performs well without any downtime. Make sure the online store delivers the service on-site. An hour of downtime can cost you a big amount as any equipment issue stops the entire food preparing process. Make sure the online store delivers the service on-site.
8. Does the store offer expert consultation?
For all the newbies in the food business, this is an important question to ask. Always go with the store that offers something more than equipment. Since all the commercial kitchen equipment is expensive and involves a huge investment, it is vital to consult an expert before making a purchase.
Conclusion
Asking all these questions will help you select the right commercial kitchen equipment store online. Restaurant.Store is India's biggest online shop dedicated to commercial kitchen equipment that also offers equipment packages, expert consultation, marketing guidelines, AMC, and even a checklist to start different food businesses.
Moiz October 26, 2021
Features
Drop us message and we'll get back to you.