Pulverizer Machine Buying Guide- 5 Easy Steps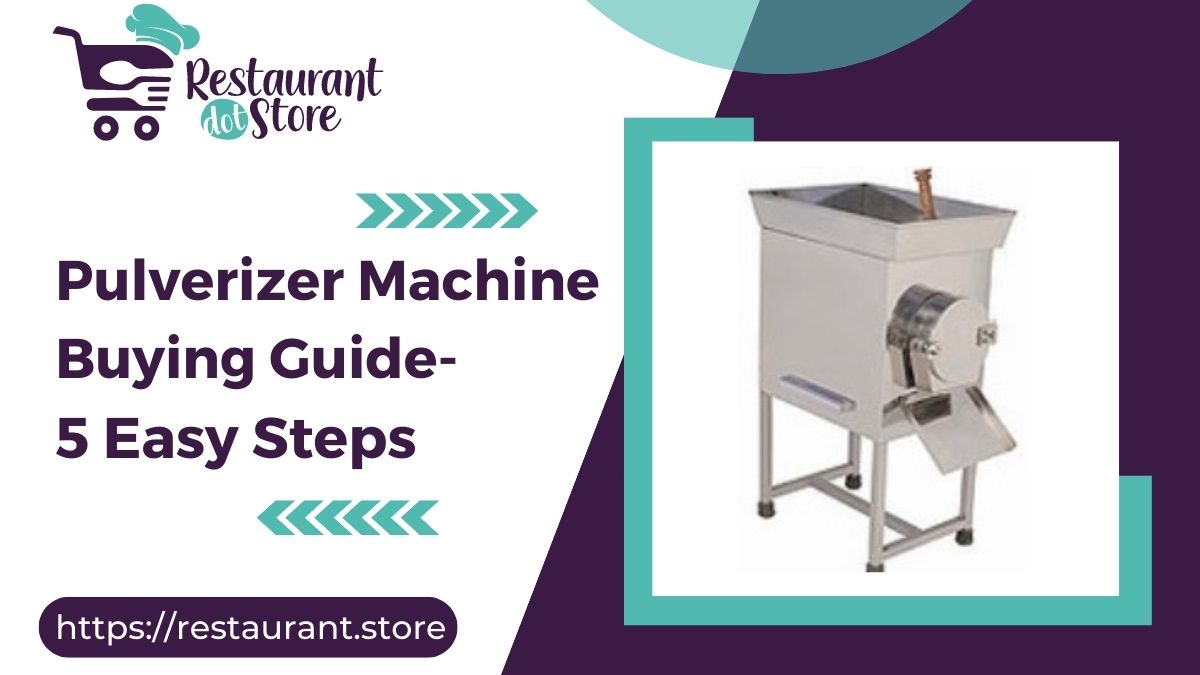 Indian cuisine has a huge importance on curries & gravy. Almost every Indian dish has a gravy version. Be it sticky okra or Paneer, gravy brings authentic Indian touch to every dish. There are different types of gravy right Red Gravy (Onion Tomato Masala), Makhni Gravy, White Gravy, & Hariyali Gravy, which all need a pulverizer machine.
Many times, the taste of that item depends a lot on the type of gravy. For instance, you cannot use Hariyali Gravy in Veg Kolhapuri. In Kolhapur, you often will find Tambda Rassa & Pandhra Rassa which is a bit similar to the above-mentioned Gravy.
Preparing the right curry is the secret to a delicious dish! To do so, chefs need to grind all the ingredients perfectly. You can imagine the amount of gravy being prepared every day in a regular Indian restaurant. It needs a strong & durable pulverizer machine.
Usually a pulverizer machine costs between INR 10,000/- to INR 25,000/- depending on the features. Selecting a pulverizer machine is a crucial task as you must know where to invest the money wisely. So let's get started!
Pulverizer Machine Buying Guide- 5 Easy Steps
1. Pulverizer Machine's Durability
A gravy machine has severe dependency as it is used to prepare the base of every dish present on the menu. The machine not working is a nightmare for most chefs!
Hence, it is important to check the durability of a gravy machine. Steal one tip from me. Being in the industry of commercial kitchen equipment for many years, I have noticed that equipment made up of Stainless Steel is more powerful and has excellent durability. If your restaurant has crazy requirements for gravy every day, the machine should be able to handle severe workloads.
2. Power
All the gravy-making machines work on electricity. Make sure your pulverizer machine consumes affordable energy & power. If the fuel type & operation type of your machine is Electricity, make sure it does not require much maintenance and consumes less power.
Every pulverizer machine has settings available to adjust the heat. Depending on what you are trying to grind in the gravy-making machine, you can switch the settings. This is directly associated with power consumption. The truth is, for large-volume orders, commercial-level gravy machines are going to consume a good amount of power in comparison with a home-kitchen gravy-making machine.
Most of the gravy-making machines are available in these power ranges- 2 HP, 3 HP, & 5 HP.
3. Accessories
What are you getting with your gravy-making machine? This is an important question you must ask the seller or check on their website's product page. Make sure it has a Safety Switch, a good number of Jalis, a wooden stick, etc.
Most of the gravy machines have 5, 6, & 7 numbers of Jalis.
4. Size
Wondering what should be the right size for your gravy-making machine? The size of your gravy machine is directly related to your restaurant's needs. If your restaurant serves a heavy number of dishes in a day, you don't want your chefs to keep on grinding gravy after every few hours. Instead, make sure you purchase a gravy machine with an excellent capacity.
Most of the gravy-making machines have drums of these sizes- 6″, 9″, & 12″. Depending on the usage, you can select the right size of the machine.
5. Budget
Budget is one of the most important factors to consider when buying a pulverizer machine. Every restaurant management can analyze their requirements, explicit desired features, & accessories and finalize the most suitable machine.
Final Words:
Being in the business of commercial kitchen equipment online stores, I have seen all the restaurateurs deciding on the right Pulverizer Machine following the above 5 factors. If you are looking for the Best Pulverizer Machine in India online for your restaurant, check out our best-selling Gravy Machines here.
Moiz October 20, 2022
Features
Drop us message and we'll get back to you.