5 Best Concrete Marketing Strategies for Restaurants in India.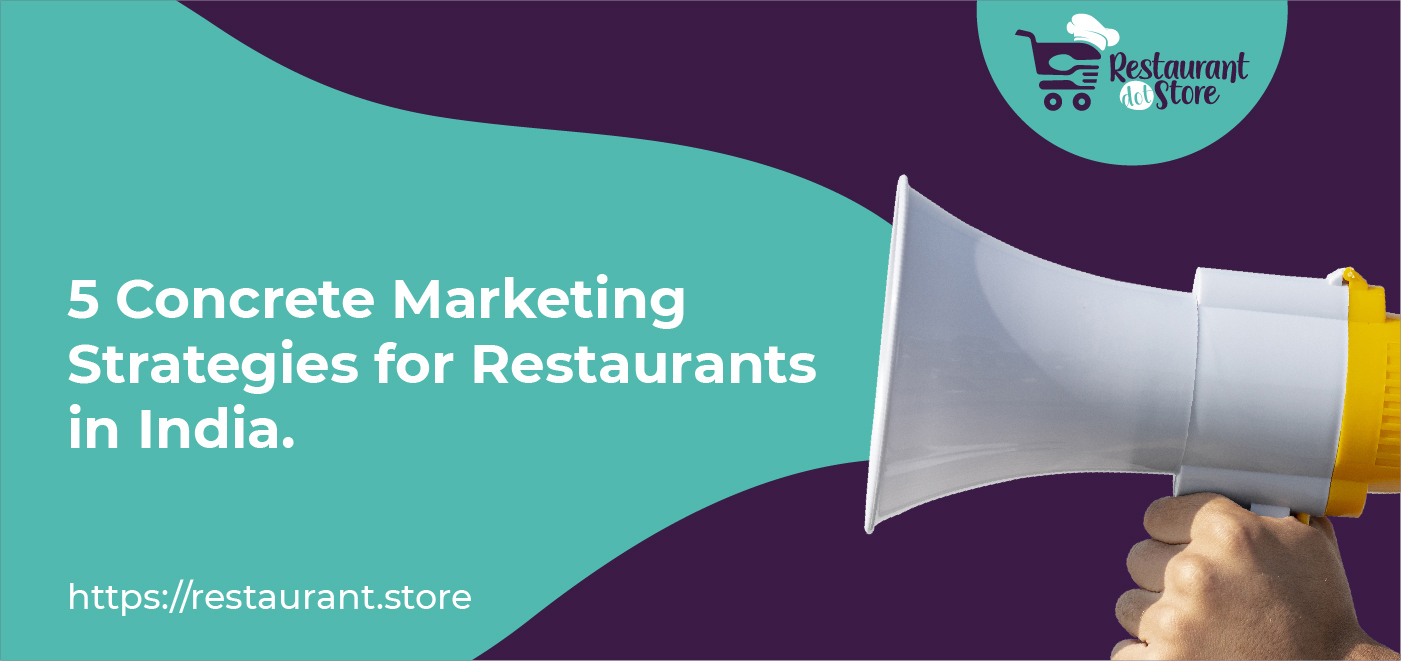 The restaurant business in India is something everybody has in mind due to visible reasons; a land of foodies, can be started with limited capital, and the market has upscaling graphs. We often get asked by such people if there is any step-by-step guide to starting a restaurant business in India and we have an answer as well. In this blog, we have also offered some vital tips for marketing strategies for restaurants which we are going to elaborate on in this blog.
Though the restaurant business has a potential market scope in India, the past couple of years has changed the entire game board. As per a report, in the year 2021, 25% of restaurants shut shop completely due to the increasing rate of Covid cases. Since people prefer home deliveries, convenience took precedence.
Such unpredictable changes can occur anytime and adapting to the situation as well as having a strategy designed to scale is equally vital. Hence, we recommend having some good restaurant promotion ideas ready with you. So let's get started.
5 Concrete Marketing Strategies for Restaurants in India
1. Local Marketing
Restaurants are local businesses even if you are running a franchise hotel, the local visibility of your business matters the most. The primary objective of any restaurant marketing strategy is to increase the footfall. The number of customers dining at your place and enjoying delicious meals should be the priority. Google can be a savior in this scenario.
Most people look for restaurants on google. "Restaurants Near Me" is one of the common search queries in the local search category of Google. The question is how to make your restaurant visible in the top 3 or top 5 restaurants. The answer is local search engine marketing. You can enhance your Google My Business profile by adding all the information and following the guidelines given by Google. You can also try posting inbound blogs or short articles on your restaurant website. Though there is no right formula for improving your online presence organically, you can still contribute by offering valuable content regularly.
2. Social Media Marketing
Social media marketing is one of the significant marketing strategies for restaurants. You can either opt for sponsored posts by spending some bucks to get followers and ultimately attract new customers. Or you can also consider organic posts and build a special social media strategy to promote your restaurant.
Make sure you keep posting regularly and bring in a variety of posts that are promoting your restaurant as well as engaging the target audience. For instance, you can put a post like- "what to order on your first date". Engaging content like this can put you under the spotlight.
3. Offers & Giveaways
Years old strategy, but still works the same! Offering some discount on your popular or most expensive food items or giving away packages or offering group concessions; all such offers are always appreciated by customers.
While strategizing such offerings, make sure you are considering your profit margin and delighting customers at the same time. Promoting your giveaways is equally important as offering giveaways. Make sure your offer reaches the right audience.
4. User Generated Content
This restaurant promotion idea is one of the most fruitful ones. We understand that gaining insights from customers is a tough part, but once you manage to engage your customers, using that data can be extremely beneficial.
For instance, for any user who loves your food and puts a review on Google, you can simply screenshot the review and post it all over your social media profiles. Or you can ask your followers to post images and videos of your restaurant and tag your restaurant. In a nutshell, when people notice others posting their experiences (user-generated content), they tend to experience it too.
5. Physical Marketing
Nothing can beat the power of physical marketing. Though in this period of pandemic people are spending more time in-house and on the internet, having an offline marketing strategy is equally important.
There are multiple amazing ways you can reach out to your potential customers:
Participate in food fairs
Place an ad in a local newspaper
Distribute flyers
Place roadside hoardings
Conclusion
Having a strategic marketing strategy for your restaurant is extremely crucial to help you sustain in the market as well as optimize your revenue generation. We hope you find all the 5 restaurant promotion ideas helpful. Let us know if you have any other suggestions. Restaurant.Store not only offers quality commercial kitchen equipment online but also such amazing tips by experts.
Moiz January 5, 2022
Features
Drop us message and we'll get back to you.