5 Smart Kitchen Cleaning Tips for a Professional Commercial Kitchen Equipment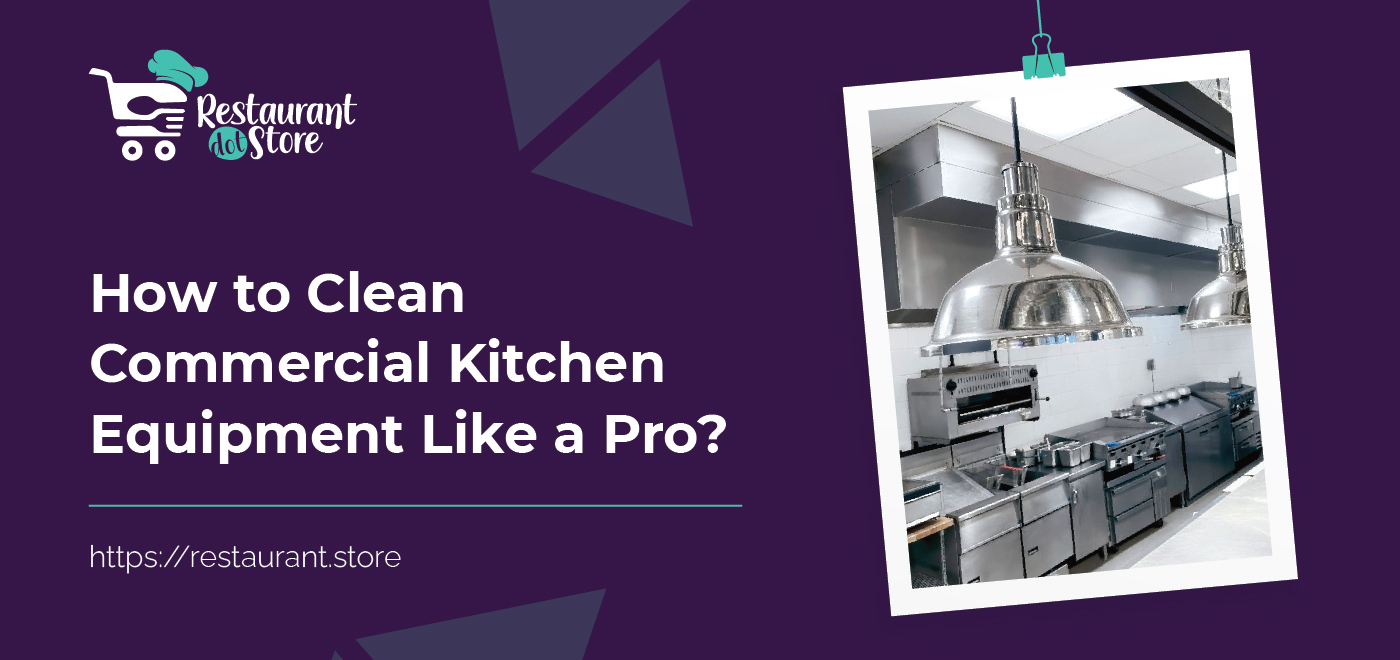 Healthy staff, healthy food, and healthy customers; every restaurant owner dreams of this and it can be achieved by obeying hygiene. Just the way you offer healthy and tasty food to your customers, it is equally important to take care of the hygiene of your staff as well as your commercial kitchen equipment. Which is why kitchen cleaning tips are very important.
Restaurant cleaning is a tedious task but not if done smartly. As per our experts who have listed down 5 kitchen cleaning tips; along with everyday cleaning, the restaurants and equipment must go through deep cleaning at least once a month. The management of every restaurant, cafe, bar and bakery can consider preparing a schedule for equipment and tools cleaning and train the staff about regular sanitization. In the past 2 years of Covid-19 Pandemic, we all have understood the importance of sanitization and cleanliness.
Food inspectors to customers, anybody can get inside or peep in your kitchen and should get to see a tidy kitchen with clean equipment. Especially if your kitchen has Open Layout Design, everything your staff cooks and prepares is clearly visible to the customers and such restaurants must pay good attention to cleanliness.
You can either opt for restaurant cleaning services or can simply follow our easy kitchen cleaning tips and tricks. Let's say hello to sparkling and spotless commercial kitchen equipment and establish an image of a restaurant offering quality services.
Commercial Kitchen Equipment Cleaning Tips:
1. Kitchen Cleaning Tips: Stainless Steel Equipment Cleaning-
One of the first commercial kitchen cleaning tips is all about the most widely used metal in commercial kitchens- Stainless Steel. Though every stainless steel equipment is bacteria-resistant, it needs regular cleaning. If your kitchen does not have stainless steel equipment, you can always explore a variety of quality stainless steel commercial kitchen equipment online here and get delivered bacteria-resistant equipment.
But cleaning such equipment is super easy. All you need is detergent powder, water, and clothes/sponges. Wet the cloth by dipping it in the soap water and clean the stainless steel equipment. Later wash the cloth and clean the equipment to take off all the soap. Make sure you finally clean it with a dry cloth to prevent contamination.
2. Kitchen Cleaning Tips: Electric Equipment Cleaning-
Though cleaning electric commercial kitchen equipment is tedious and tiring, we recommend regular cleaning can make the task less complex. Since the equipment is electric, we suggest you read the manuals carefully and follow vital instructions while cleaning them.
Make sure you plug out the equipment before cleaning to avoid any mishappenings. Also, if possible, take out all the detachable parts from the equipment as it becomes easy to clean it. For instance, if you are cleaning a fryer, drain the oil, and take out all the parts such as the baskets, trays, etc. for better cleaning. Always let the equipment dry completely and don't use wet cloth anywhere near the wires. Never splash water directly near the electronic components.
3. Kitchen Cleaning Tips: Greasy Stain Cleaning-
One of the most difficult tasks while cleaning the equipment is greasy stains. You can see such stains everywhere on gas ranges, barbeque machines, ovens, stainless steel preparation tables, fryers, etc. Let us tell you the best way to clean a stovetop, hob, oven, etc.
You can use commercial kitchen equipment cleaning solutions or soaps and scrub the stains off. Also, leaving the greasy trays and vessels in the soap water overnight can help you clean them easily. Did you know most of the equipment gets greasy stains due to poor-quality or poorly efficient exhaust systems? Always buy stainless steel exhaust systems from reputed online stores like Restaurant.Store.
4. Kitchen Cleaning Tips: Gas Burner Range Cleaning-
A gas burner gets the most dirty as it faces the maximum number of spills. One should always keep a gas burner clean to avoid wastage of gas as well as carbon deposits on the utensils. A gas burner should be cleaned in the following steps:
Unscrew and remove the gas burner head from the cooking range.
Take a needle and puncture all the blocked holes in the burner head.
Fill a deep bowl with kerosene, petrol or diesel and submerge the burner head in the liquid.
Let it rest in the liquid for a few hours.
Remove the burner head from the liquid, let it dry and re-attach it to the cooking range.
Fire the burner at full flame for 10-15 seconds. It will clean the head and the flame will be blue again.
5. Kitchen Cleaning Tips: Commercial Kitchen Floor Cleaning-
An untidy kitchen floor can put your staff at risk of slipping on the floor. It can also make your staff's shoes dirty which can ruin your restaurant's image amongst customers. And most importantly, it can cause germs in the air and foul smell which affects the quality of your meal.
We have the best way to clean the kitchen floor. Once you close the dining and clear the kitchen, you can clean the dry junk with a broom and use grease-fighter solutions to clean the entire floor. Let the floor dry overnight. You can consider cleaning it with a brush once every week.
Conclusion
Cleaning commercial equipment is an easy task if done regularly. Along with cleaning the equipment, make sure you conduct annual maintenance of every piece of equipment. Always purchase the equipment from reliable stores that offer prompt AMC services. One of such online stores is Restaurant.Store, where you not only get to explore a wide range of commercial kitchen equipment online but also get the best AMC services.
Moiz September 23, 2021
Features
Drop us message and we'll get back to you.