Kickstart a Smoothie and Juice Bar Business Plan in India: 7 Easy Steps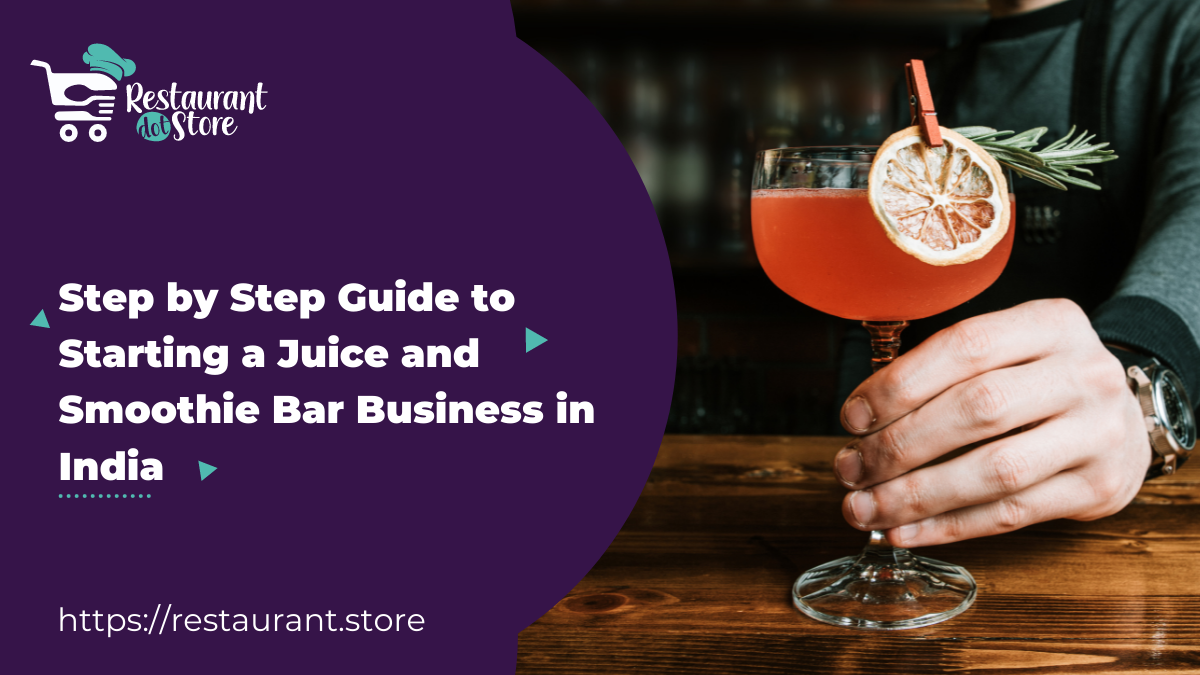 Restaurant business in India is one of the most experimented ones. Plenty of restaurants start and end within 6 months. Since the food business in India has always seen impressive growth, people look forward to entering the market. Though starting a Restaurant or Bar involves a huge investment of time, money, and effort, there are plenty of other food businesses you can try your hand at.
One of such ideas can be starting a Juice bar business in India. Everyone likes to sip drinks that are fresh, juicy, and full of proteins. Especially if it is summer, people often prefer drinking juices and milkshakes daily to keep their bodies hydrated & healthy. The best part about the juice bar business in India is that it requires very little investment as compared to opening a restaurant business. Many juice centers work like quick-service restaurants where customers prefer on the go or drinking juice while standing and getting back to work.
Let's understand how to start a juice business in India and how to create a juice bar business plan.
Step-by-Step Guide to Starting a Smoothie and Juice Bar plan Business in India
1. The Theme of Juice Bar
Let's first decide what should be the theme of your juice bar. Whether you wish to start a small stall-like structure or wish to open a cafe like a juice bar business, having this sorted is very crucial. The theme of your juice & smoothie bar business depends a lot on the capital you have as well as the work expansion you can manage.
You can either open a juice bar that has a wide sitting area to allow your customers to sit back, relax, and enjoy the juices. Or you can open a tiny center with standing tables where customers can drink their juices in a jiffy. If you are looking for a financier to start your business, you would first need to have a juice business plan that will explain your business's entire launch & processing plan.
2. Juice Bar Menu
You must be wondering what unique things can be there in a juice bar menu. But there is a lot of scopes to experiment with the shakes and smoothies you can offer. Depending on the characteristics of fruits, you can create a unique menu of mixed fruits. For instance, mixing any kind of berries increases the natural richness of proteins and nutrients in the smoothie as well as tastes heavenly.
You can also include healthy ingredients in your menu like ginger, tulsi, honey, jaggery, dry fruits, seeds, etc. Having a tasty, unique, as well as healthy juice menu puts you in a win-win situation as people seek good taste and nutrients from juices, shakes, & smoothies.
3. Juice Bar Location
It is extremely important to understand where to start a juice bar. How often do you see people get out of their homes all dressed up just to visit a juice center, have tasty juices, and get back home? In a nutshell, juice and milkshakes are something that people prefer to have unintentionally. If they feel thirsty if they feel dehydrated, or simply if they feel the temptation to have those yummy drinks.
Hence, it is highly recommended to open a juice bar at a crowded place like a marketplace, near a school or college, around a corporate hub, or even at the corner of a busy road. Make sure whatever location you select, catches customers' attention and attracts them. Make sure you check out multiple small juice bar design ideas to run a successful business even in a small place.
4. Juice Bar Licenses
To run any business in India, you need to have all the necessary licenses. The first thing you would need is a Registration license where you can secure your brand name, logo, tagline, brand identity, etc. Here's a list of other important licenses to run a juice bar business in India.
FSSAI– FSSAI is a mandatory license in India to run any food-related business.
Health License– Health license indicates that the juice bar follows all the guidelines given by the health department.
Other Licenses– Shop Establishment License, Local Municipal Authority License, etc.
5. Juice Bar Equipment
Once you decide on other aspects of the business, the next important step is to list down the necessary equipment and get that equipment from a reliable source. Let me help you here. Here are the top necessary equipment required for a juice business in India
Make sure you purchase all the equipment of stainless steel body wherever possible and of renowned brands. You can save a lot of time by simply ordering all essential equipment from a reliable online store like Restaurant.Store. Restaurant.Store is an online shop that offers a wide range of commercial kitchen equipment all over India. If you are looking for expert advice while investing in commercial equipment, Restaurant.Store has a team of industry experts who can help you with the purchase of all necessary equipment.
6. Juice Bar Staff
How big do you wish to start? If you are going ahead with a tiny juice stall, you might be able to run a successful juice business with a couple of resources; one who prepares the juices and another who is a helping hand. But if you are planning to start a cafe-like juice bar theme, you will be needing at least 2 resources for drink preparation, and 3 resources as helping hands. Along with these, you might need to hire resources to look after cleaning and sweeping.
If you already have any resources in mind, it's awesome, but if not, try to connect with a resource supplier agency. Such agencies offer professional resources with a good experience.
7. Juice Bar Marketing
How do we expect success from a business if we don't let people know about it? With physical marketing, you can also try online marketing to attract more customers to your business. Right from displaying standee & pamphlets, you can work on social media marketing as well. You can come up with innovative marketing ideas such as offering coupons, offers, discounts, etc.
Conclusion
Since you are now well aware of the entire process of starting a juice bar business in India, we wish you all the best. Let us know if you wish to know more about starting a business like a juice bar in India and also comment down your thoughts on this guide. Also, don't forget to check out the Restaurant.Store and explore a wide range of commercial kitchen equipment.
Moiz February 3, 2022
Features
Drop us message and we'll get back to you.