6 Easy Steps to Kickstart a Shawarma Business Plan in India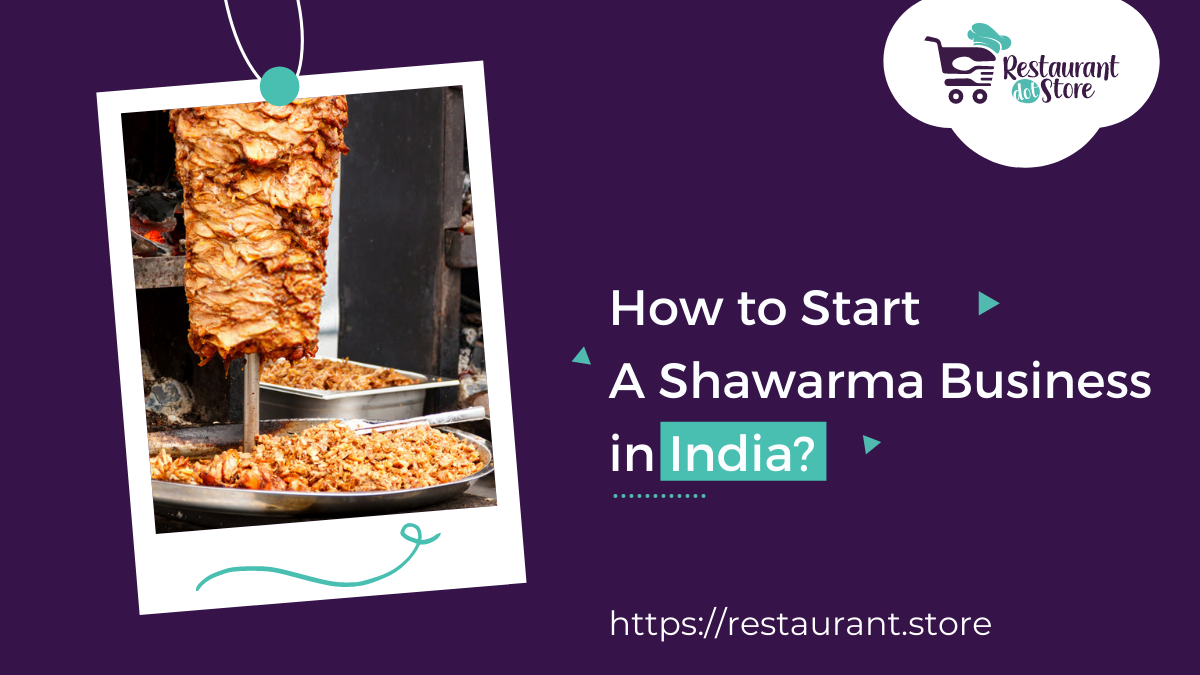 Are you a newbie in the food industry and wish to start safe? Then starting a shawarma restaurant can be a good option for you. The food industry in India has always seen a whopping success and there is no surprise that many entrepreneurs wish to enter into this market.
Shawarma business plan is a good idea especially for beginners as it requires comparatively less capital and focuses on limited menu items. But how do you start a shawarma restaurant? What licenses do you need? Where to buy the commercial shawarma roll machines from?
All these above questions are answered below in this blog. So let's get started.
Detailed Guide to Have the Right Shawarma Business Plan in India
1. Complete Your Share of Research
It is highly recommended to study the market and industry before entering into it, especially for newbie entrepreneurs. Even if you love eating Shawarma or know how to prepare one, running a business is a lot more than this.
What are the types of shawarma? What all ingredients are required? What is the essential equipment to prepare shawarma? What location would be the best place for starting a shawarma restaurant in India? All these questions can be answered with detailed research. Too overwhelming right? Don't worry! We got you covered!
2. Licenses
There are multiple licenses required for a shawarma restaurant in India indicating various aspects. First thing first! FSSAI license ensures the quality of the food matches the standards set by FSSAI. To avoid any mishappenings, you must have a fire extinguisher and a Fire Safety License. To ensure that the shawarma shop is run within compliance with the health department, you need a Health License.
Along with these vital licenses, you also need Shop Establishment License, Local Municipal Authority License, GST Registration, etc. Usually, the total cost of all licenses is somewhere between INR 50,000-70,000.
3. Location
Selecting a location for your shawarma business is extremely important since most of the shawarma dishes are made of meat and are quite popular amongst youngsters, you can consider college areas or office areas.
Make sure the location of your shawarma restaurant is pocket-friendly with your capital budget. Primer the location, the costlier the rent is going to be. Since a typical shawarma restaurant doesn't require a large sitting area, you can opt for a small shop too.
4. Equipment
Here comes the crucial part. Shawarma is one of the food dishes that require a specific kind of equipment and cannot be cooked on regular equipment. We recommend you to purchase brand new equipment for your new shop as 2nd hand equipment might not have good functioning and long life! Since no other equipment is suitable for making shawarmas, having a high-quality commercial shawarma machine is recommended.
You can order Shawarma Machine With Cabinet, Shawarma Machine Table Top Imported, or even Shawarma Machine Table Top Indian along with other essential equipment such as exhaust hood, SS work table, etc.
5. Resources
If you are planning to start a small shawarma shop, then you can hire one shawarma expert who will look after your shop. But if you are planning to start a fully functioning shawarma restaurant, we recommend you hire a bunch of people handling cooking & serving.
You can contact professional resource supplier agencies to hire the best and experienced shawarma experts.
6. Branding & Marketing
How do you plan to gain success if you don't plan your branding & marketing strategies in the early stages? Make sure you hire a professional agency to help you with a brand name, logo, tag line, and marketing activities.
You can surely opt for social media marketing for your shawarma shop and gain popularity in an organic way.
Conclusion
Now that you know the must-haves of the shawarma business in India, you must have understood that equipment is the most crucial aspect of this business. Restaurant.Store is an online store where you can explore & shop a variety of commercial kitchen equipment. Right from highly advanced & branded shawarma machine to all restaurant equipment, you can get it all under one link! You can also consult our experts to seek help in establishing& planning your new shawarma business. So what are you waiting for? Click here to contact us.
Moiz November 23, 2021
Features
Drop us message and we'll get back to you.