Simple Guide on How to Use A Commercial Bain Marie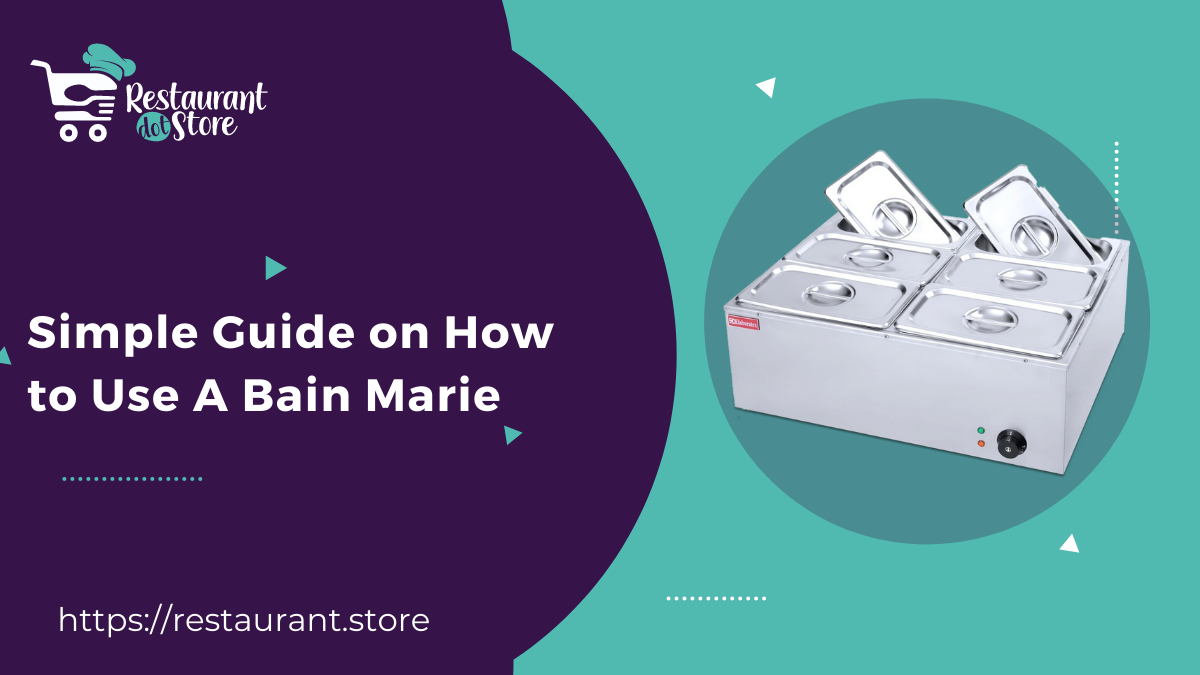 Are you a newbie in the restaurant industry and wonder what a bain marie is? What does it do? How does it function? How to use a Commercial Bain Marie effectively? If these are the questions popping up in your mind, then this blog is for you.
Bain marie which is French for water bath is a commercial equipment used for gentle cooking or to keep the food hot & fresh for a long time. If you wish to cook with this equipment, you must know what the bain marie food items are. Any delicate ingredients for instance chocolate; when you want to melt it, if you expose it directly to flame, it will burn.
Most widely, a commercial bain marie is used to keep the cooked food warm for a long time and is mostly used in restaurants or catering businesses. Usually, 2 pans are stacked on top of one another where the bottom pan is filled with water and the top pan contains the food item. With electric power, the water in the bottom pan is boiled keeping the food in the top pan warm & fresh. Wonder how to effectively use a commercial bain marie? Follow this guide:
5 Steps to Use A commercial Bain Marie
Step 1: Decide what you want to keep fresh? There are multiple sizes, capacities, and a number of pans available in the bain marie. As per your bain marie, select the number of food items you wish to keep warm for serving.
Step 2: Pour water into the bain marie bottom container. Make sure you check the length of the top pan and measure the gap between the container/bottom pan & top pan to avoid over-pouring of water.
Step 3: If it is an electric bain marie, connect the plug to the board and start boiling the water. Once boiled, stack the top pans filled with food that wish to keep warm.
Step 4: Make sure you turn off the boiling after some time as it may overcook the food and spoil the taste. Once you close the pan's lid, your food will remain warm for a long time as usually every commercial bain marie in India is made of stainless steel.
Step 5: Once the need for your commercial bain marie is over, don't forget to take out the water and clean the entire equipment. Make sure you unplug the wires before you start cleaning the bain marie.
Now that you know how a commercial bain marie food warmer works, let me give you some tips that you must look out for when you are purchasing one.
All stainless steel body
High efficiency
Accurate temperature control
Energy-saving features
Durable built
Conclusion
Commercial bain marie is a smart innovation blessing the food industry. Caterers & restaurateurs around the world use bain marie for cooking & keeping the food warm. Let us know in the comments below how you liked this step-by-step guideline. Also, if you wish to order a commercial bain marie food warmer online, check out Restaurant.Store. Restaurant.Store is an online store offering quality commercial kitchen equipment all over India.
Moiz April 5, 2022
Features
Drop us message and we'll get back to you.