Design Commercial Kitchens Like Experts Do in 8 Easy Steps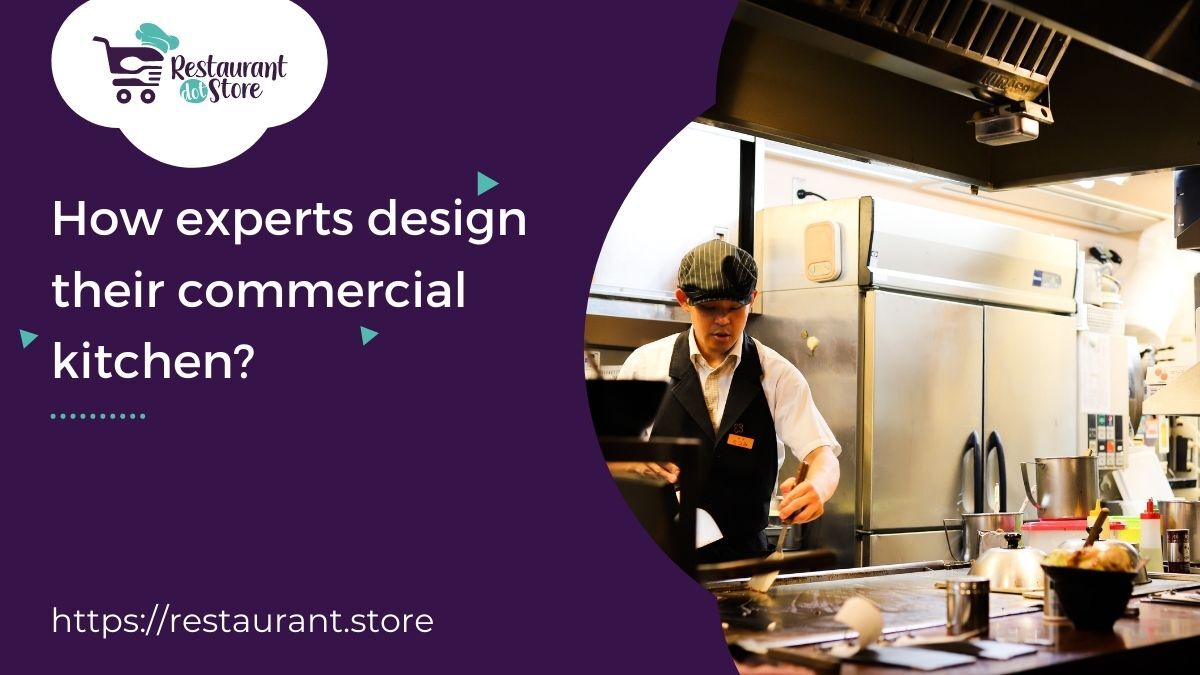 The kitchen is the heart of every restaurant! One of the most crucial tasks for any restaurateur is to design the commercial kitchen layout since a lot depends on how your restaurant layout is. If you are starting a new restaurant and looking out for some help with designing your commercial kitchen, you have landed on the right page. Let us first raise a toast to celebrate your new venture! Cheers!
First, let us tell you why the commercial kitchen layout is so important. The perfect layout of commercial kitchens ensures optimum efficiency and productivity. Be it a quick-service restaurant or a small cafe kitchen or the kitchen of a premium fine-dine restaurant, a well-designed commercial kitchen can save a lot of time, and effort, and avoid accidents at workplaces.
The size of your restaurant, the number of sittings you are planning to have, the number of staff, and especially the menu; all these factors play an important role in deciding the commercial kitchen layout. In this blog, we are going to inform you about the important elements of commercial kitchen designs and the reason why each element is important.
Here Is How Experts Design Commercial Kitchens:
For all restaurateurs willing to gain maximum profits from their new restaurants, establish a new restaurant brand, and achieve loyal customers in less time span, you must think & act like experts. Below are some important factors and points from our experienced in-house team of industry experts.
1. Keep it Simple:
You won't be designing your restaurant every couple of years as it won't be convenient and feasible either. Hence, make sure you consider all factors in your design from the beginning. Any restaurant kitchen has to be extremely simple, easy to understand, and accessible. Even if you are designing a small commercial kitchen layout, it is going to have a large number of employees, chefs, supervisors, and a whole lot of equipment.
Hence, make sure the kitchen design is clear, has everything easily available for the staff, has no scope for errors during rush hours, and is well-organized. Our experts believe that every commercial kitchen layout should be super easy to understand for even a new staff member. This reflects the efficiency of the design.
2. Make it More Scalable:
The restaurant business is one of the most dynamic businesses in India. After every few days, a new trend is introduced in the market which can be regarding new recipes, new ways of cooking, latest & modified equipment, or even modifications in rules by the Government.
That is why we recommend having a scope for changes in your kitchen design. Your kitchen should be able to adapt to any new change in the menu, equipment, or even an employee. Especially for the restaurants that serve daily special menu items, or offer seasonal menus, or are open in festive seasons like Diwali & Christmas, a flexible & scalable kitchen can be a great relief.
3. Smooth Workflow:
Imagine working in rush hours, your preparation tables are situated far from the cooking range, every order completion is taking an extra 5 seconds for staff to bring the ingredients from the preparation table to the cooking area. You get 500 orders during rush hours. The total is 5×500= 2500 seconds i.e. a total delay of 42 minutes!
There is no particular right order of placing equipment and workspaces as every restaurant works differently. But the standard serial should always keep the cooking area near the service station or pick-up counters to help chefs hand over the orders to the waiters quickly. Also, make sure all cooking ranges have access to water so the sinks should be planted in the layout smartly.
All fryers should have a chip dump nearby, all tandoors should have a working table on the right-hand side, and all continental gas ranges should be accompanied by griddle plates as the cooking goes hand in hand for these two. Also one should consider a dosa batter holder next to a dosa bhatti, this will make the dosa making much faster. Along with all Indian cooking ranges, there should be a properly placed working table which can be used as a "mise en place", this is very important.
A roti section should be separate as in Indian kitchens the staff makes chapati while being seated. The roti section should also have a proper capacity dough mixer. All pick-up counters should have heating lamps to keep food warm if pick-up is delayed. There are many such points which need to be considered, to get a better idea you can connect to the Restaurant.Store team, they can guide you over all your queries.
4. Kitchen Equipment:
Shopping for commercial kitchen equipment can really be overwhelming as it is one of the most vital factors deciding your restaurant's success rate. Depending on the menu, space of the kitchen, and type of restaurant, the equipment is selected.
Make sure all the kitchen equipment and tools are advanced, technology-driven, and according to your requirements. Every piece of equipment must be of good quality, durable, and capable of handling rush hours and festive seasons. For a scalable kitchen, our experts recommend movable equipment, not fixed as the kitchen needs to be thoroughly washed everyday end.
If you want to get supreme quality equipment, you can simply visit Restaurant.Store, an online store where premium quality commercial equipment are available. Simply scroll down, select what you need & like, and get it delivered within a few days. You can connect to the team who will help you decide which equipment or machinery you should buy depending on your requirement.
5. A Place for Supervision:
This is something crucial. Every restaurant has a head chef or a supervisor who manages all tasks, looks after the quality of work, and guides the whole staff in case of any issue. Imagine the supervisor or the head chef has to walk to every corner of the kitchen to check on all tasks. It is going to be super messy and hectic for the supervisor. Be it a small commercial kitchen layout or a large one, make sure you have enough room for the supervisors and allow them to monitor every task from a distance with good efficiency.
6. Technology:
Smart is everywhere. With amazing technologies, people are not only transforming their offices and homes into smart ones but this trend can be seen even in the food business. Consider equipment that is technically sound and processes that are smarter.
Have you been thinking about having a paper ticket system to convey orders to the chefs? Are you planning to have a typical paper menu? This all can be replaced with kitchen display screens and online menus.
7. Easy Maintenance:
If you want your kitchen to be modular, plan for the worst. What if any equipment breaks down? Or the vendors want to carry out an Annual Maintenance Contract (AMC), what if there is no room for maintenance?
Also, food businesses require perfect levels of hygiene and sanitation. Periodic cleaning of the kitchen and equipment should be considered while designing the commercial kitchen.
8. Ventilation:
Did you know that restaurants without an exhaust system have to pay a certain fine and get an exhaust system installed mandatorily? Not only a proper exhaust system but also a fresh air inlet system is important for restaurants to keep the air ventilated. Improper ventilation affects indoor air quality, odors, and air circulation.
Make sure the heat, odor, and oily air generated from the kitchen doesn't rest in the same room or worse, doesn't get released in the dining area.
Conclusion:
Before finalizing the design, make sure you consider all the above factors carefully. Also, if you are confused about anything, you can simply visit Restaurant.Store to consult with an expert and get your restaurant a professionally designed commercial kitchen layout. Click here to know
Moiz June 28, 2021
Features
Drop us message and we'll get back to you.