Guide to The Perfect Commercial Kitchen Setup in 5 Easy Steps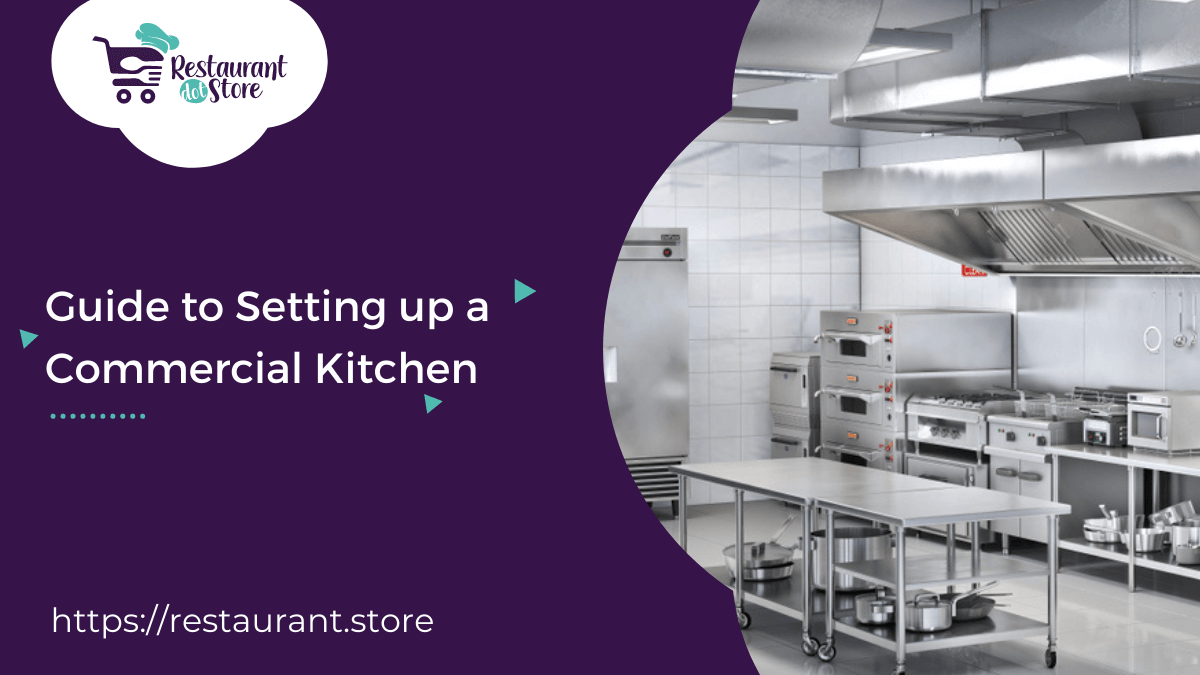 The kitchen is where the heart and soul of your restaurant lies and it is here that pleasing customers takes on a beautiful journey.
So, whether you're planning on opening a new restaurant or venturing about for an empty space or perhaps, you want to renovate an already existing one or do it from the start, all this requires careful execution when it comes to Commercial Kitchen Setup.
Optimizing your commercial kitchen for maximum functionality and smoothening your food-service operations can be intimidating and if you are confused about where to start, then rest assured you've come to just the right place!
Although, every commercial kitchen is different, there are several fundamental steps everyone should follow when embarking on the road to a great one! Doing this will result in an avoidance of time-consumption and some expensive adjustments.
In this blog, we share with you a helpful guide that provides valuable insights such as:
How to set up a commercial kitchen?
Fundamental principles when that decode the "how" of commercial kitchen setup.
Factors to consider when building a commercial kitchen.
Types of commercial kitchen layouts.
The Basics You Need to Know When a Commercial Kitchen Setup
1. The Chef Knows Best
Understanding your menu is a critical step in assessing the needs of the kitchen, and who knows better about the menu than the chef!
It is important to remember that the concept of "generic kitchen" does not exist because every food-service operations are different and have their own set of requirements. Sure, there are certain commercial kitchen staples that will be there no matter what- such as prep tables, washing stations etc, but how this equipment is arranged has a lot to do with what you're planning to serve.
Keep in mind that since it is the chef that will be working in the kitchen every day, they become a critical deciding factor of the kind of configurations needed and what commercial kitchen equipment setup will work best!
2. Space Allocation
Imagine buying the best kitchen equipment only to find out you don't have enough space to keep it. Bummer right?!
It is imperative to measure out space and understand exactly what you're working with before you get started with building a commercial kitchen.
Knowing where your windows, doors and electrical outlets are also other important elements to consider.
The Fundamental Principles that Decode the "How" of Commercial Kitchen Setup
There are seven necessary areas every commercial kitchen has. These are:
Storage Area
Cooking Area
Food Preparation (Prep) Area
Service Area
Delivery Area
Food Return Area
Cleaning/Washing Area
It is the consideration of these areas that set the foundation when setting up a commercial kitchen or coming to a decision about configuration.
3. Types of Kitchen Layouts
A. Island Configuration
This type of commercial kitchen setup looks like an island with a countertop in the middle composing of cooking equipment such as ranges and ovens while it's outer rims are for food prep or other activities. However, you can always customize this type of configuration according to your preferences, and change the cooking or prep activity to something that suits your restaurant operation.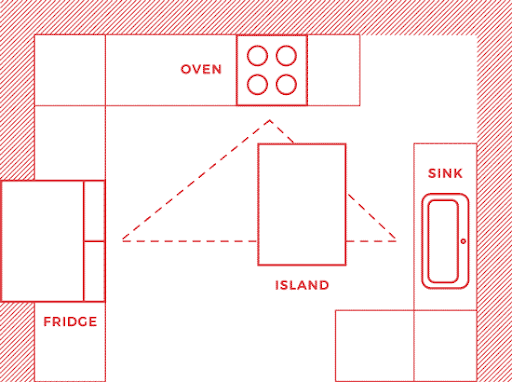 B. Assembly Line Configuration
In this type of commercial kitchen setup/configuration, the activities such as cooking stations, food prep, etc., are aligned along a straight line. This is often seen in restaurants that serve small dishes such as sandwiches, burritos or even food-service operations that feed a large number of people quickly such as food carts!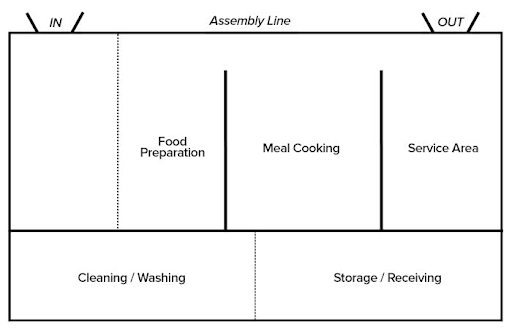 C. Zoning Configuration
As the name suggests, in this type of configuration, each type of activity has its own allotted space. Although you can customize each zone based on your needs, some of the more common zones when setting up commercial kitchens include:
Food Prep
Cooking
Service
Dishwashing
Each zone has its own pieces of equipment for the employee working in it, which helps eliminate searching the entire kitchen for the right tool and thus, saving time. For example- a prep zone would include cutting board, cutting knives, mixers etc, while a dishwashing zone will include sinks and cleaning supplies easily within reach of the individual.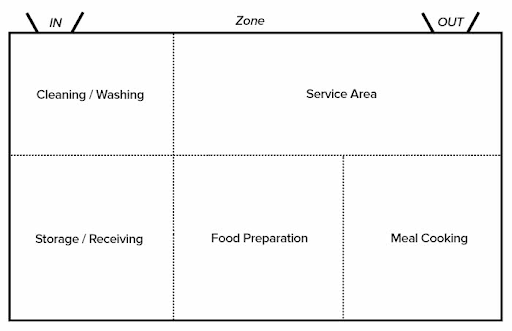 D. Open Configuration
In this style of configuration, one's entire food-service operations are exposed to the guests or customers. This is commonly seen in fast-food restaurants that want to maintain transparency in food prep or even restaurants looking to offer an entertaining aspect to guests on how dishes are created. However, it is imperative to note that this style of configuration mounts up added pressure to always maintain a clean and tidy kitchen, so weighing the pros and cons of this type of configuration is a wise step.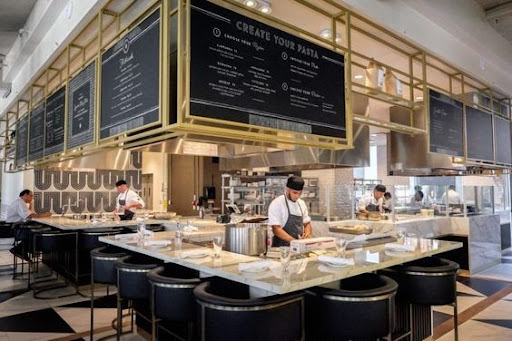 E. Ergonomic Configurations
This style of configuration is one which is the most comfortable while working. It allows the staff or chefs in the kitchen to be able to move as fast and as smoothly as possible to complete tasks. The equipment in this type of configuration is kept at the closest proximity so that employees don't need to crouch or walk too much from their stations to get what they need i.e makes it possible to get items in hand. It does not just look after the well-being of team members but also reduces movement which is essential to increase efficiency and reduce mishaps.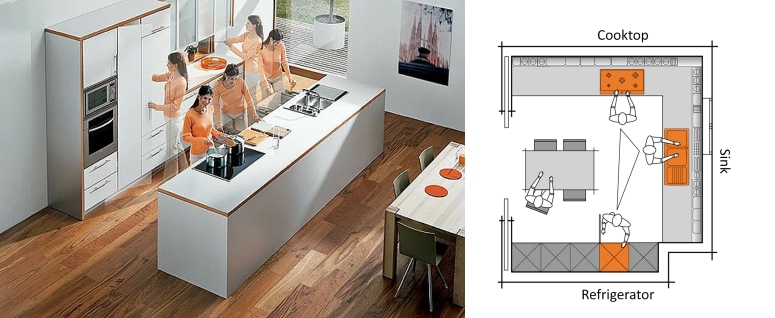 Factors to Consider When Building a Commercial kitchen
1. Minimalism & Space Efficiency
When it comes to the setup of your commercial kitchen, making the most out of limited space is a must. To do this successfully, analyzing what one needs and what doesn't as well plays a crucial role. This can be found by communicating with the chef about what equipments will be needed to smoothly prepare the food in the menu. That way, you can save up valuable space and put it to better use.
2. Commercial Kitchen Setup Flow/Movement:
The movement your chefs need to do in the kitchen to use a piece of equipment or get the right tool, plays an important part in the successful running of it. The right flow can help reduce confusion and increase efficiency. It can also prevent accidents from happening.
3. Flexibility & Versatility
Menu's change just like the food industry does. Your commercial kitchen setup should be able to keep up with these constant changes. Shelving units, racks and prep tables with wheels can help you adjust the arrangement of your kitchen when the time requires it.
4. Sanitation & Hygiene
Maintaining the health and safety of your kitchen is an essential part of being in the food business. Although this element is best trusted with a diligent and well-trained staff, there are many ways of keeping your commercial kitchen looking as clean as possible with the way it is designed in the long run. Local regulations such as food safety standards also need to be paid close attention to. Such as where waste disposal is kept as well as where dishwashing and handwashing sinks are placed.
5. Management and Guidance
For kitchens that have a large staff, an executive chef has the work of overseeing the work of other sous chefs. If this is the case with your food operation, consider having fewer walls or partitions for a completely unobstructed view when building a commercial kitchen.
6. Energy-Saving
Energy in the kitchen is used extensively by the usage of equipment. Carefully arranging the space in your commercial kitchen can help a great deal when it comes to energy efficiency.
For example, one needs to keep cold store equipment far away from cooking and baking equipment as it will reduce the need to draw more power to compensate for the additional heat.
7. Commercial Kitchen Setup Equipment
The equipment that goes into your kitchen space greatly impacts the design. Large appliances such as ovens, gas ranges and refrigerators demand a lot of space and also need to be kept close to electrical outlets.
Keep in mind to consider every aspect of your menu plan as well as space when making your equipment list.
You Don't Have to Set Up the Commercial Kitchen Alone!
Even if you have a clear vision has to how you want your commercial kitchen to look, a lot can go wrong. These challenges are not limited to dimensional measurements, handing off instructions to the building team, choosing the right equipment and much more.
At Restaurant. Store, we have been turning commercial kitchen setup dreams to reality with high-quality food equipment and supplies, superior installations and design consultation services for decades. We are professionals who know the ins-and-outs of the process and have helped restaurants lay strong foundations, increase their productivity and succeed!
Find Out All About the Exemplary Things We Can Do For You and Your Kitchen Today!
Contact Us for a Consultation!
Moiz March 8, 2021
Features
Drop us message and we'll get back to you.