Equipment Packages- 5 Big Reasons Restaurants Prefer Buying Them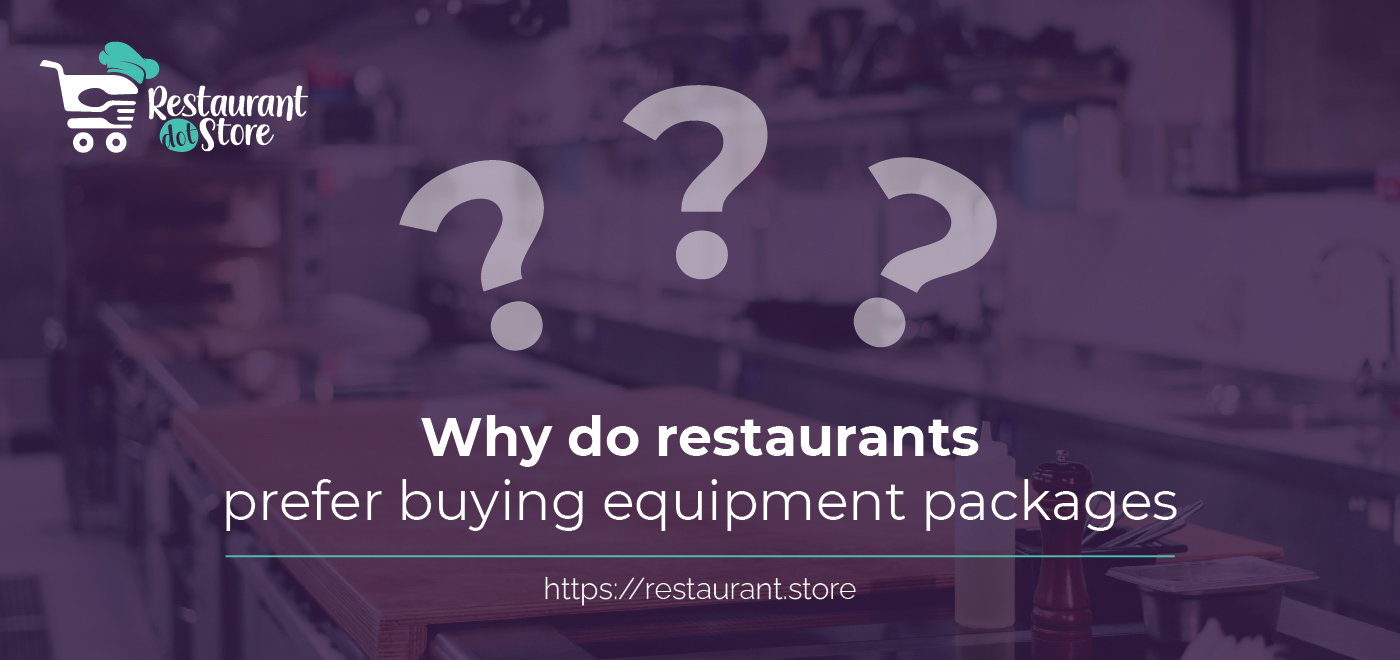 Opening a new restaurant is both exciting and arduous at the same time. Right from finalizing the restaurant theme, equipment packages & menu to renting or buying a place for your restaurant, there is a big list of tasks involved.
Are you planning to start a new restaurant or a cafe or even a cloud kitchen? Everything needs planning. One common factor in all the above businesses is purchasing equipment. How are you planning to purchase equipment for your new business? Are you going to go to the market and visit every showroom and spend hours understanding the configuration of equipment? Or are you going to get everything online in a few clicks? It is not just about where you are going to buy but also about how you are going to buy that equipment.
Even a tiny cafe or a cloud kitchen with a limited menu of 3 to 4 items requires basic essential equipment like refrigerator, Baking oven, SS work table, mixer, gas cooking range, etc. In this market where payment to technology; everything is smart, you can also shop smart by getting a restaurant equipment package.
Let's find out what are the benefits of commercial kitchen equipment packages:
1. Find everything at one place
It might not be feasible to purchase equipment one by one and spend hours finding the best ones for your new venture. Packages are something that offers a bunch of every essential equipment and you need not tally your equipment checklist.
2. Save some (a lot) bucks
Commercial equipment prices are always higher than home kitchen equipment since that equipment is of more capacities and processing powers. Commercial kitchen equipment packages allow you to save costs due to bulk purchases. Many stores offer 25% to 30% off on package deals enabling a saving of thousands of rupees.
Restaurant.Store, India's largest commercial kitchen equipment online store offers packages for different food sectors like cloud kitchens, bakeries, etc. Their Indian Cuisine Cloud Kitchen Package allows you to get a package of 7 important equipment at a discounted price. The total of those 7 equipment is 128,000 INR and the package deal offers it for only 95,000 INR saving 33,000 INR! In this way, you can bring down the cost to build a commercial kitchen.
3. Save Time
As mentioned earlier in the blog, purchasing single equipment separately can consume a lot of time and energy. Custom commercial kitchen packages can save a great time. You can read the descriptions, customize the packages as per your needs, and buy them in a few clicks saving your precious time.
4. Customize the Package
Few of the companies like Restaurant.Store offers customizable packages where you can select the sizes and types of equipment as per your need, you can add new equipment to the package if you want, and customize the package. You can simply create your own package of custom commercial kitchen equipment of renowned brands and get it delivered to your doorstep.
5. Grab the Delightful Offer
Whenever you are looking for a package deal, make sure that the store offers more than equipment. In that case, Restaurant.Store offers expert consultancy while selecting the best equipment as per your business requirements. Their packages also offer personalized kitchen layouts, marketing guides, and business checklists. All these efficient offerings by Restaurant.Store is customized as per the food business type.
For instance, if you are planning to start a coffee shop, the coffee shop equipment package offers a marketing guide exclusive for cafes, a cafe set-up checklist, cafe kitchen layout design, etc.
Conclusion
Starting a business can be more fun if you get to save time, energy, and money with such amazing offers. Make sure you shop from trusted online stores like Restaurant.Store where you get expert advice as well as timely AMC services for all equipment. Explore the wide range of equipment here Restaurant.store
Moiz October 22, 2021
Features
Drop us message and we'll get back to you.