Easy Commercial Water Cooler buying Guide 2022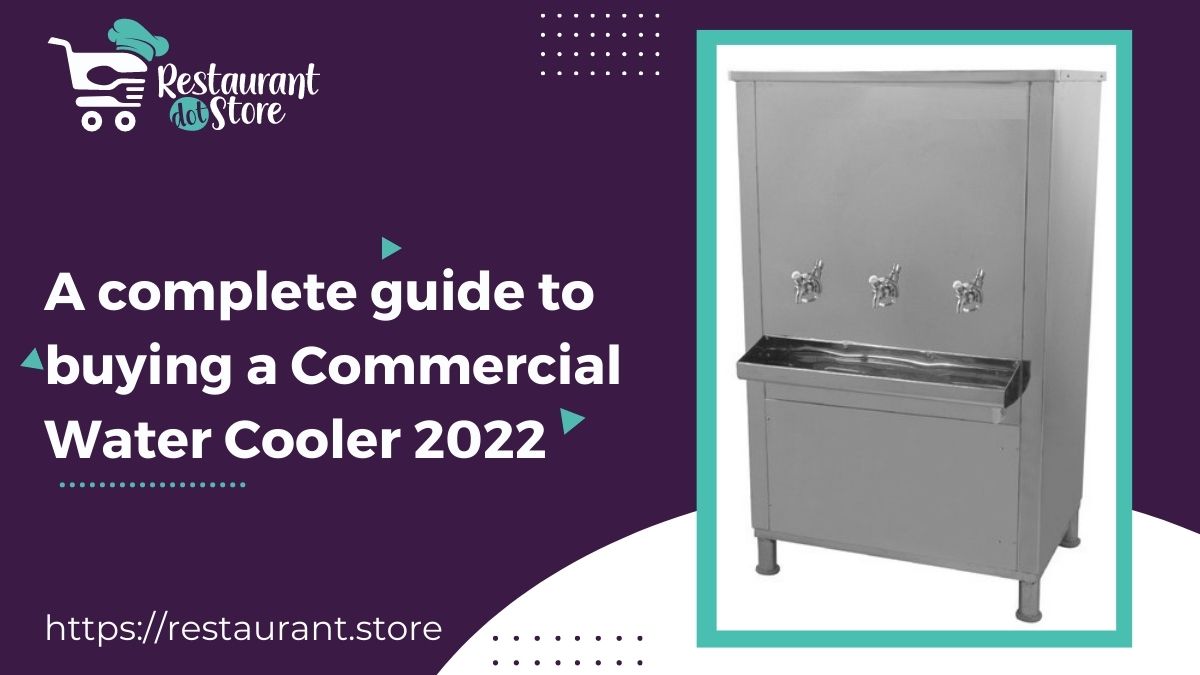 It goes without saying that any restaurant will invest in a commercial water cooler and dispensers for their restaurant, but how do they choose the best options?
Water is one of the most basic ingredients required in almost every dish prepared in a restaurant. You need water while cooking, cleaning, and various operations. Apart from being utilized in cooking, water is also a basic need for the staff of your restaurant. A commercial water cooler ensures that the water in your establishment is clean, and ready to use whenever it's needed.
Given below is a comprehensive guide to refer to before investing in commercial or industrial water coolers! Also find the things you should keep in mind before purchasing a dispenser.
What to Consider Before Purchasing a Commercial Water Cooler or Dispenser
1. The Type of Water Cooler/Dispenser
There are several types of Commercial water coolers based on their operation and functionality. The entire reason for installing water coolers is to preserve the effort, time, and cost to manage large amounts of water that could go up to 5 to 6 gallons. Various types of water coolers are-
Top/Bottom Loaded Bottled Water Coolers/Dispensers: These are types of bottled water coolers, in which a plastic bottle that stores unpurified water, is installed either on the top or bottom of the body of the cooler/dispenser. They cost less than point-of-use coolers and require water to be added manually to the bottles. These types of coolers can easily handle up to 5 gallons or 22 litres of water, depending on the brand and model of the water cooler/dispenser.
Point of Use Water Cooler: These are also called bottle-less water coolers, and can be directly attached to the main water line. They can handle larger amounts of water than bottled coolers, as the supply from the main water line is endless. But as a result, they are costlier than bottled water coolers.

2. Purification System
Every water dispenser or cooler usually has a built-in purification system that distills and makes water safe to drink! This system ensures that small sedimentation, particles, chlorine, and lead in the water source are filtered out.
3. Temperature Adjustment
Most dispensers or coolers have water cooling and warming features, but there could be a few which have only one of the two. Does your restaurant need hot water to make hot beverages like coffees and teas, or do you need cold water for mocktails or juices? Depending on the menu of your restaurant, you can select the aptest commercial water cooler. A few specific models of this equipment also come with adjustable temperature controls- where you can change the degree to your desired temperature!
4. Cleaning and Draining Ease
For hygiene reasons, your Commercial water coolers and dispensers need to be cleaned weekly. While purchasing one, look out for cleaning options, and pick a cooler/dispenser that is cleaned with extreme ease. The surrounding area around your equipment also needs to be kept dry. Having an efficient draining ecosystem is also beneficial in a case like this.
5. Other Features to Keep an Eye Out For
Commercial Water Coolers and Dispensers often come with a few extra accessories and features. These include- cup holders, drip trays, conversion kits, and hot water safer faucets.
Conclusion
As mentioned throughout this blog, a commercial organization needs a high-functioning water cooler/dispenser. Apart from providing water easily, this industrial equipment also helps the environment by reducing single-use plastic water bottles. I hope this blog could help you shed some light on how to choose the best one for your restaurant! Browse through our distinctive range of water coolers available exclusively on Restaurant.Store!
Moiz July 27, 2022
Features
Drop us message and we'll get back to you.