10 Huge Challenges All Small Commercial Kitchen Owner Face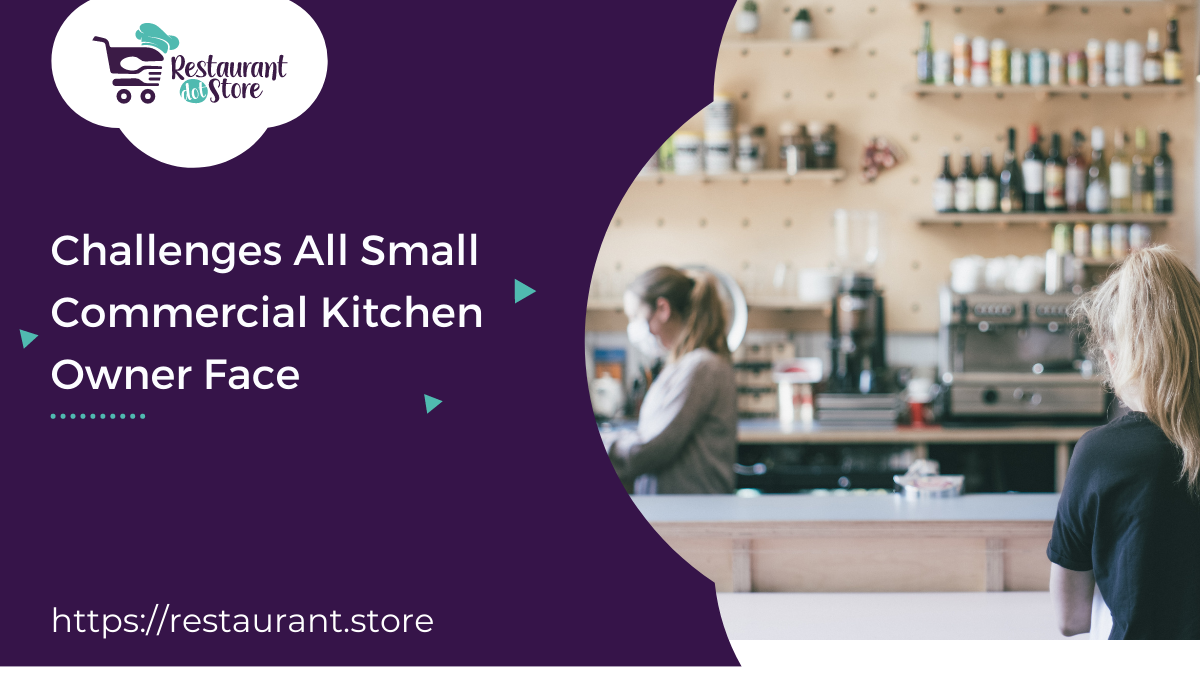 A commercial kitchen usually serves hundreds of people in a day. It can be a big restaurant, hotel, cafe, concession stands, walk-up window restaurant, small diners, small bakeries, or even a food truck.
Though the food business is one of the most prominent sectors in India, there are multiple challenges an owner might face while starting a commercial kitchen business. So if you are planning to start a small commercial kitchen, here is a blog you must read.
Challenges All Small Commercial Kitchen Businesses Face And Tips To Overcome Those Challenges:
1. Can someone plan for us?
The first challenge a commercial kitchen owner might face is how to plan the complete process? Where to start, what should be the design, what could be the budget, what does the market look like, all these questions and many more others need to be answered first.
Make sure you study the market and understand what are the current trends going on. Right from selecting the location of the kitchen to estimating the finances, plan out everything. Do some research before you start.
2. What to offer?
The first challenge a small commercial kitchen owner might face is how to plan the complete process? Where to start, what should be the design, what could be the budget, what does the market look like, all these questions and many more others need to be answered first.
Being a tiny commercial kitchen, try to limit the number of items and focus on uniqueness. A too-long menu means a lot of ingredients and ultimately a lot of preparation time. Hence sort out the menu. Also, how you represent your menu is a challenge. There are many different and unique ways restaurants are offering their menus. You can opt for a QR code scan, whiteboard, electronic display board, etc. Remember creative writing never gets old!
3. How to design your commercial kitchen?
Designing a small commercial kitchen is the most crucial task. Considering the size as small as a food truck or a small cafe kitchen, allocating space for types of equipment, tools, and appliances so that leaves a big room for chefs to do their work; this is what designing is all about.
Though you can plan out the kitchen designing, it is highly recommended to hire professional help from experts. These experts understand the exact requirements of the business owners and design the kitchens with wide free space and all the equipment at a handy distance. One of the best service providers is Restaurant.Store. Their experienced experts have designed many commercial kitchens successfully.
4. How to hire the right army?
Be it a permanent or seasonal staff, finding the right ones for a tiny commercial kitchen is a tough task. It is difficult to find staff having experience in preparing dishes you are planning to sell, trained to handle hundreds of customers in a day, and knowledge of using high technology equipment.
You can either conduct interviews by publishing ads, or can simply hire a third-party staffing agency. Though the agency will cost a bit more, it assures long-term employment and offers staff as per our needs.
5. Finding the right vendors
Successful restaurant owners know the importance of finding the right vendors. A restaurant requires a whole lot of ingredients and other stuff on a daily basis. Right from commercial gas lines to vegetables and grocery items, a restaurant owner has to deal with multiple vendors.
Make sure you do a little background check before hiring the vendors. Try to work with them on a temporary basis so that you can keep experimenting and select the best one.
6. Finding the right equipment
No matter how small your commercial kitchen is, you are going to need a bunch of kitchen equipment and appliances. It is difficult to understand which equipment is the right one for your business. Also finding a number of compact & multipurpose equipment is a challenge.
You can always buy your own equipment online from a reputed e-commerce platform like Restaurant.Store. They not only guide customers to get the right equipment but also offer Annual Maintenance Contract services to ensure all the equipment is working fine.
7. How to beat the competition?
Restaurants or any small commercial kitchen in metro regions face heavy competition. The major challenge for any restaurateur is to create a strong place for his business despite heavy competition.
While doing some market research, try to find out how many similar themed or similar niched commercial kitchens are there in your city and what unique are you doing.
8. Marketing? How to do that?
As mentioned above, it is important to form your own unique place in the market full of competition. Even if you are offering amazing food, at minimal prices, what is the point if people are not aware of your small commercial kitchen? Marketing, branding, promoting, and advertising your commercial kitchen while focusing on the core business is a big challenge.
The perfect solution to this challenge is hiring a professional marketing agency. These companies or agencies take care of all the marketing tasks so that you can focus on your core business.
9. How do I get the licenses?
This is the most crucial challenge any small commercial kitchen owner or tiny commercial kitchen owner would face. Did you know that you require around 11 licenses to start a commercial kitchen?
You can either get those licenses by visiting Government offices or simply hire consultants who will do all the documentation and get you all the necessary licenses.
10. How do I manage finances?
Incorrect estimation of finances can ruin the start of your business. It is important to consider tiny factors while estimating initial capital. These factors can be the purchase of ingredients, equipment, appliances, hiring different professionals, renting or buying a place for your commercial kitchen, etc. Understand that it takes a while to reach the Break-Even Point.
Conclusion:
Though there are many challenges a small commercial kitchen owner can face, we at Restaurant.Store, tend to overcome two major challenges by offering the best kitchen equipment and designing an entire commercial kitchen. Click here to know more.
Moiz March 15, 2021
Features
Drop us message and we'll get back to you.