6 Best Tips for Restaurant Fire Prevention & Safety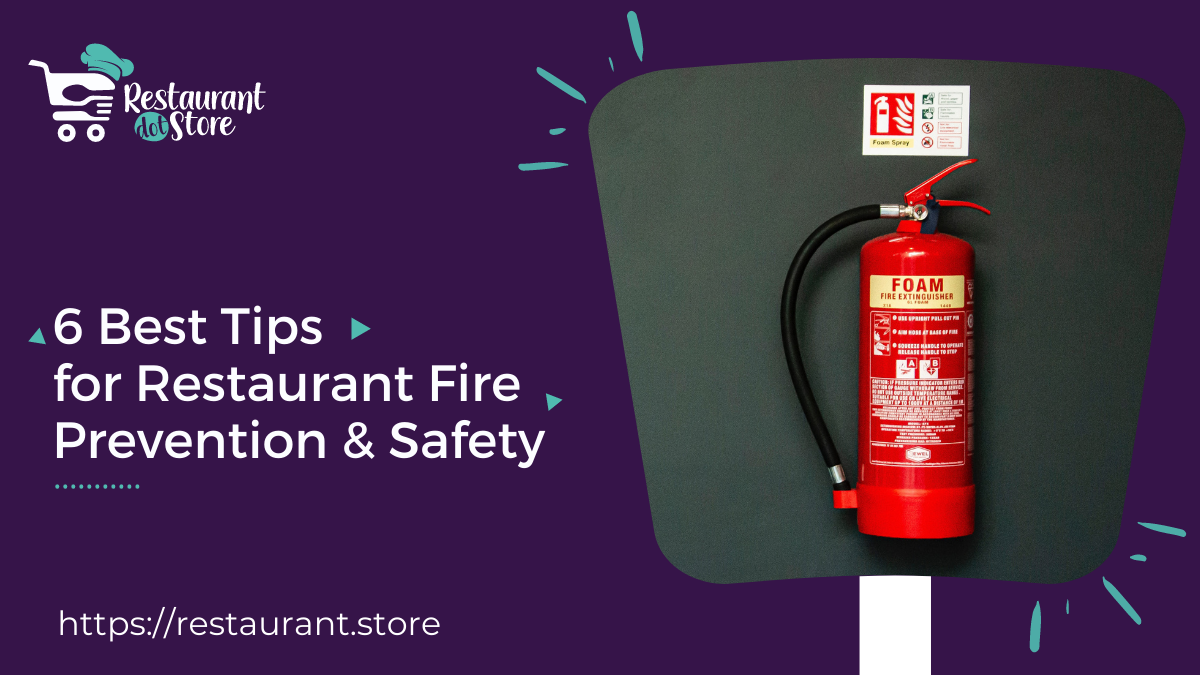 Starting a restaurant is definitely an exciting journey and a huge responsibility at the same time. Restaurateurs must consider minute details while starting a business as a big crowd is expected to visit the dining facility every day including the staff of the restaurant. In this case, Restaurant Fire Prevention & Safety are 2 major factors to consider.
Restaurateurs need to get certain licenses to run the restaurant and one of those vital licenses is Fire & Safety license. It is a mandatory license and non-compliance leads to a huge legal fine. Though installing a quality commercial kitchen fire suppression system is compulsory, there are many other tips you can steal to avoid any sort of mishappening. The F & B industry has experienced many fire emergencies as it involves gas & electricity, on a major level.
First, Let's Learn What Are the Common Causes of Fire in Restaurants & Cafes
1. Ducting in the Exhaust System
Not every kitchen layout has enough open space for more oxygen to get in and prevent fire mishappenings. For all such restaurants, having a professional exhaust system is a must. Even the tiny exhaust fans behind commercial ovens and refrigerators are a type of exhaust. Since the exhaust fire suppression systems attract fog and grease, any fire raised while cooking can spread viciously. Fire requires a medium to pass just like electricity. Grease and Fog are the good conductors of fire.
2. Gas Leakage
Gas leakage has been the most common cause of fire at any restaurant or even residential premises. Damage in the cylinder or pipes can cause the flammable gas to exit and catch fire. Also, any cylinder not fitted properly can cause gas leakage.
3. Short Circuit
Electricity is another common cause of the fire. Rusted wires, unsafe or poorly constructed wiring, damaged components, etc. can be the reasons for short circuits. The most common reason behind short circuits is the spilling of water or oil on the electrical commercial kitchen equipment.
4. Full Grease Traps
Commercial kitchen grease traps used in restaurants are installed to wash sinks and catch fog, food material, and grease by protecting them from entering the sewer system. An excess amount of grease can cause extreme heat and start a fire. In our recent blog, we have explained how to maintain a commercial kitchen grease trap.
Being aware of the common causes is one of the ways you can prevent fire at your restaurant. In this blog, we are going to help you with more interesting and fire-proof tips. Keep reading.
6 Best Tips for Restaurant Fire Prevention & Safety
1. Install a Commercial Kitchen Fire Suppression System
This is the latest technology solution used in almost every restaurant. The fire suppression system has cylinders that must be kept in a safe place. These cylinders contain wet chemicals called clean agents discharged from the nozzles above the appliance. Whenever smoke or fire is detected, an electronic signal is passed to the control unit where the automatic fire suppression system discharges the wet chemicals to cover the flames and starve them of oxygen as the chemical is engineered in that way.
2. Get Fire Extinguishers
Though this is the most obvious tip to prevent your restaurant from fire, you must understand what type of fire extinguisher is a must. Any fire that occurs in a commercial kitchen is called Class K fire as it involves combustible cooking materials such as vegetable oils. For such fire cases, restaurants require Class K Fire Extinguishers. Make sure you get a portable fire extinguisher as it is super handy and best for such emergencies. However, you can also use different classes of fire extinguishers like A, B, C, etc.
3. Get Smoke Detectors
Having smoke detectors everywhere in your restaurant's dining area, washrooms, lobbies, as well as the kitchen can prevent mishappenings. Smoke detectors detect fire at an early stage, play the loud alarm to alert everyone, and also report the fire to first responders.
4. Keep Checking All Fire Appliances
Installing the latest technology, fire extinguishers can detect, notify, and even douse the fire. This is possible only when the appliances are in a good condition and are working properly. Maintenance of all such appliances is crucial. We recommend that you keep checking the condition of every appliance and get it repaired in case of any error or damage.
5. Train Your Staff
Since most of your staff must be working in the kitchen and are going to be there on the work field if any fire takes place, it is highly recommended to train the staff first. The training must include how to detect a fire before it spreads, how to take precautions, how to use electrical appliances as well as gas appliances, how to use fire extinguishers, how to get the customers and other staff out of the premises, how to control fire manually, how to increase the flow of oxygen, etc. A well-trained staff can save your restaurant from any major fire accident.
6. Get Quality Commercial Kitchen Equipment
Most of the food processing work is carried out on the gas or electric appliances. Having quality equipment made of stainless steel can function appropriately and reduce the risk of fire. You can always get equipment for your commercial kitchen from a reliable online store like Restaurant.Store. Restaurant.Store has a huge variety of commercial kitchen equipment right from commercial refrigerators to electric mixer grinders or food processors.
Conclusion
Having a kitchen fire suppression system and following all other tips can prevent your hotel from fire and keep it safe. Though you have learned some amazing fire accident prevention tips, we recommend getting the insurance done. All the above tips are provided by the experts at Restaurant.Store. We also offer expert consultation, commercial kitchen layout design assistance, and much along with offering quality commercial kitchen equipment. Click here to know more.
Moiz December 14, 2021
Features
Drop us message and we'll get back to you.